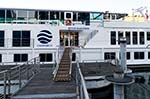 Like other river cruisers. River Baroness is a long and boxy-looking vessel whose shape and size are dictated by practical considerations: the ship must fit into river locks and under bridges.

River Baroness entered service in 1995 as the Queen of Holland (a name that is engraved on the ship's bell). After being acquired by Uniworld, the ship was given a complete overhaul in collaboration with Uniworld's sister company, Red Carnation Hotels.
River Baroness has a capacity of 120 passengers, which is a fraction of the passenger count on most oceangoing cruise ships. Cabins and public rooms are located on three decks:
The lower deck, or Brittany Deck, has 30 cabins, a spa and fitness center, and the Van Gogh Restaurant.

The main deck, or Normandy Deck, has 26 cabins and four suites, along with the reception area, boutique, library, and Monet Lounge.

From open decks on either side of the reception area, stairs lead up to the Sun Deck. This is a large flat deck with open-air tables, deck chairs protected by a large awning, a glassed-in Sky Lounge, and the wheelhouse or bridge.

Accessibility: An electric wheelchair lift provides access to all three decks. Unlike some older river vessels, River Baroness has level decks throughout, so wheelchair users or slow walkers can go fore and aft without encountering barriers.
Despite this, Uniworld states on its Web site that river ships aren't wheelchair-accessible. We'd guess this is partly because cabins have limited open floor space, but also because using gangways may be difficult with a wheelchair in some ports at low or high tide. In addition, Uniworld's Web site warns that, "to be able to fully enjoy all excursions, passengers should be in good health and able to walk well (including up and down stairs)."