In many ways, a river cruise is like a group tour: Most shore excursions are included in the fare, and coach tours of varying lengths are part of the cruise experience.
We prefer independent travel to group travel, and we'd rather walk 10 miles than ride for two hours in a tour bus. Fortunately, our River Baroness "Paris & Normandy" cruise itinerary struck a reasonable balance between walking tours and bus trips, with several longer (and optional) coach excursions for passengers who wanted to go farther afield.
During our cruise, the list of shore excursions included: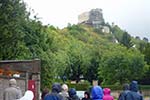 A leisurely uphill walk from the riverside village of Les Andelys to the Château Gaillard, a ruined castle that was built for Richard the Lionheart in just two years, from 1196 to 1198. (Passengers who weren't able or willing to walk could ride by bus to a lookout point for a photogenic view of the fortress.)
A day tour by coach to Normandy's D-Day landing beaches and the Normandy American Cemetery in Colleville-sur-Mer, with a choice of visits to either the D-Day Museum at Arromanches or the Bayeux Tapestry in Bayeux (the first French town liberated after the Allied invation of 1994).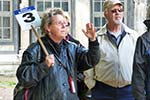 A walking tour of Rouen's Old Town, which was only a few minutes on foot from our ship's berth on the Seine. Rouen is famous for its Cathedral, its Gros Horloge or astronomical clock, its 2,000 half-timbered medieval houses, and the site where Joan of Arc was burned at the stake in 1431.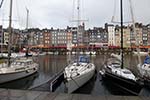 A morning bus excursion to Honfleur, which has evolved from a fishing village to an artists' haunt to a tourist town over the centuries. (Alternatively, passengers could choose an "Irresistible Optional Excursion" to the Upper Normandy countryside, including the dramatic Cliffs of Etretat, a visit to an apple- and cider-producing estate with a lunch of Normande dishes, and an afternoon in Honfleur.)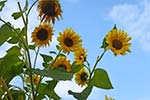 A morning tour by coach to Monet's house and gardens at Giverny, with enough free time for shopping or a hurried visit to the Museum of Impressionism and its free gardens the adjacent village. (In the afternoon, guests could book an optional tour to the palace and gardens of Versailles.)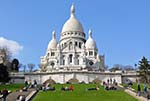 A choice of half-day excursions in Paris: "Montmartre Artists' Village" or "Heart of Paris: Île de la Cité and Latin Quarter walking tour." (Optional tours included "Secrets and Masterpieces of the Louvre" in the afternoon and a pricey "Evening at Moulin Rouge" that included dinner and a show.)
In addition to these shore excursions, guests who had booked Uniworld's 10-day/seven-night "Cruise/Tour" package were treated to a "Paris City Tour" on the day before the ship's departure from Paris. (They could also choose an optional "Illuminated Paris evening cruise with dinner" and--on the day of sailing--a morning coach tour to the Château de Chantilly.)
Note: On most River Baroness shore excursions, passengers can listen to tour guides with Quietvox radio receivers, which have lightweight plastic earpieces. We were skeptical about the system before trying it, but after using it, we think it's a great idea: Guests no longer need to crowd around the guide to hear the lecture, which is more convenient for members of the tour group and less disruptive to other tourists.