Uniworld River Baroness cruise review
Page 10
Continued from page 9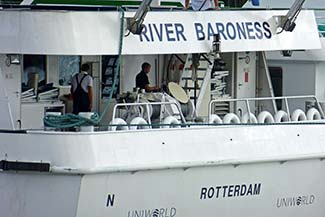 ABOVE: An engineer and a sailor on the aft crew deck of River Baroness.
Uniworld Web links
Uniworld Boutique River Cruise Collection
The cruise line's Web site has information on cruising in Europe, Russia, China, and Egypt. A section is devoted to River Baroness and its cruises from Paris to Normandy and back.

Also see:
Paris for Visitors
Our Paris travel-planning site has information on transportation, hotels, sightseeing, and other topics.
River Countess Cruise Review
Read our in-depth illustrated review and photo diary of a cruise on Uniworld's River Countess, which cruises in Venice and the Venetian Lagoon.