River Countess Cruise Photos
From: Uniworld River Countess cruise review
Day 2: Venice (3)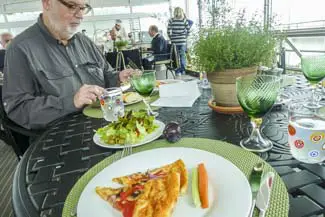 We had lunch in the Osteria Siena on the Sun Deck of River Countess, where a chef was making pizzas continuously. Salads, prosciutto, desserts, and drinks also were available.
The pizza was excellent--and possibly the best we've ever had in Venice.
---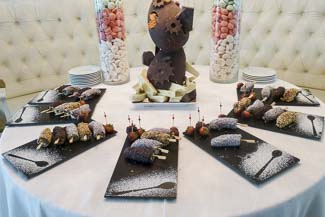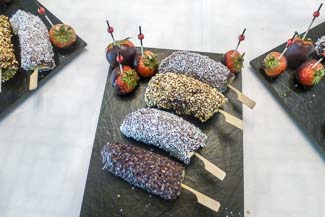 On our way back to our cabin, we checked out the buffet lunch in the restaurant, just to see what we'd missed. Cheryl couldn't resist trying a chocolate-covered banana from the display at the entrance to the dining room.
---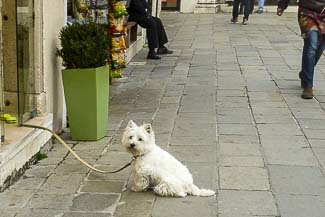 During the afternoon, we took advantage of our free time by walking randomly in Castello and San Marco, where--as always--Cheryl seized every opportunity to photograph the local dogs.
---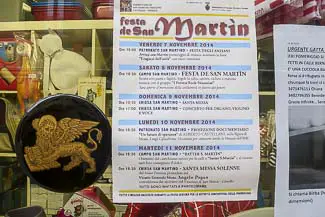 We saw an announcement for the impending Festa de San Martìn (Venetian dialect for the "Feast of St. Martin," a traditional Catholic holiday that is celebrated in Venice).
---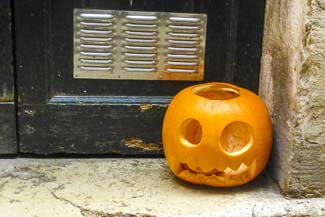 Halloween, an imported holiday, has begun to make inroads in Italy. We noticed an abandoned Jack O'Lantern in a doorway even though the Halloween and All Saint's Day had passed.

---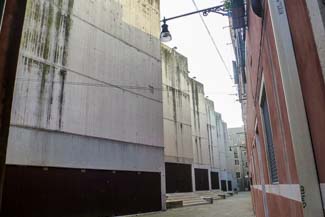 We also passed what may well be Venice's ugliest building: A modern community sports center made of concrete. (Fortunately, the building is well-hidden in a side street off the waterfront, and most people never have to look at it.)
---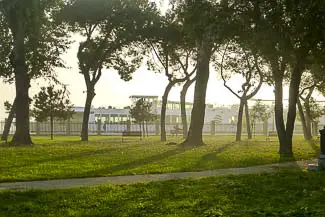 On our way back to River Countess, Cheryl took this picture of our ship through the trees of a neighborhood park.
---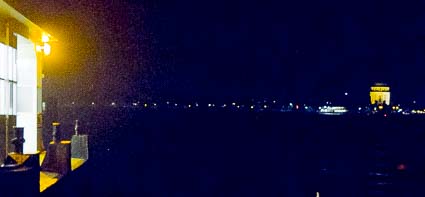 After dinner, we caught the No. 1 vaporetto and rode across the water to the Lido di Venezia (the long, narrow barrier island that separates the Venetian Lagoon from the Adriatic Sea).
---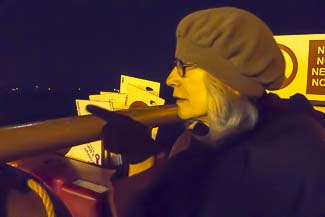 It was a cool night, but we sat in the bow and enjoyed the sensation of being out on the open water.
(Tip: If you're on a newer No. 1 vaporetto that doesn't have seating in the bow, walk through the enclosed passenger cabin to the sheltered outdoor seating area in the stern.)
---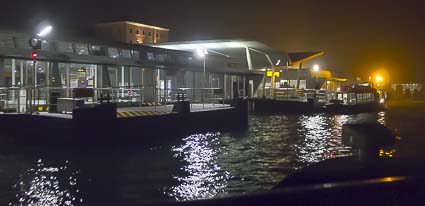 It was a fairly quick ride to Santa Maria Elisabetta, the Lido's main vaporetto stop.
---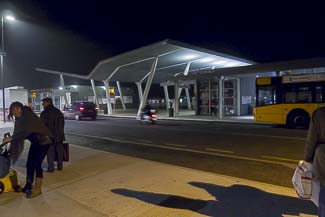 The street between the transit stop was quiet, with only one bus and a handful of local residents in sight.
(Note: Unlike central Venice, the Lido has cars and buses. Traffic isn't as heavy as it might be in a mainland resort or suburb, since the Lido is an island that can be reached only by water bus or car ferry.)
---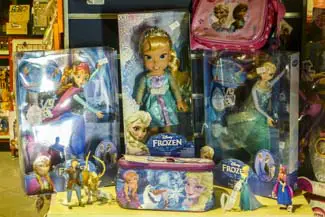 We walked around the Lido for a while. Durant snapped this picture of products from Disney's Frozen in a toy-store window in honor of our 3-1/2-year-old granddaughter, who's devoted to Queen Elsa and Princess Anna.
---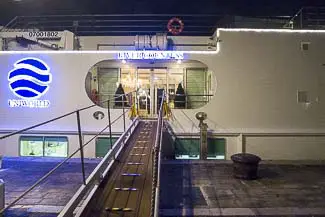 The Riva dei Sette Martiri was quiet when we returned by vaporetto to the Arsenale waterbus stop and walked the short distance to River Countess.
---
---
---
---