River Countess Cruise Photos
From: Uniworld River Countess cruise review
Day 3: Cruising to Choggia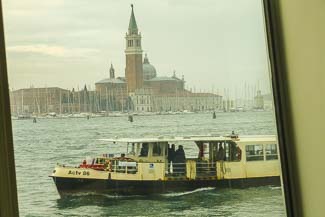 On Tuesday morning, we found a breakfast table in the stern, next to a window. Cheryl snapped this picture of a No. 1 vaporetto passing between the ship and the island church of San Giorgio Maggiore.
---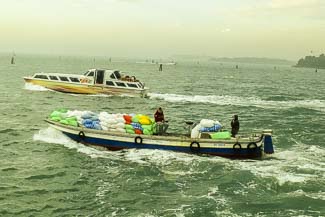 The weather had turned gloomy, but our spirits weren't dampened: How could anyone resist a waterfront view of Venice and boat traffic in St. Mark's Basin?
---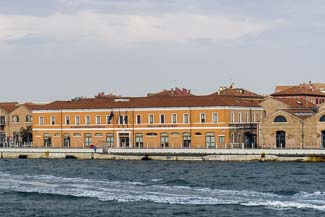 Our morning cruise to Chioggia (at the southern end of the Venetian Lagoon) began with a daylight trip down the Giudecca Canal to the Santa Marta pier, where we'd boarded River Countess on Sunday afternoon.
---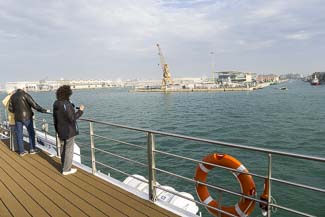 Just beyond Santa Marta, we got a good view of Venice's Marittima ship basin, which is used by large cruise vessels (and, occasionally, by small ships like River Countess).
---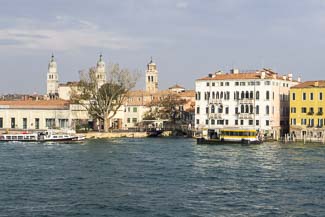 After River Countess had turned and headed back up the Giudecca Canal, we passed the San Basilio cruise terminal, which is used by small and mid-size oceangoing ships. (The floating boat platform on the right is the San Basilio vaporetto stop.)
---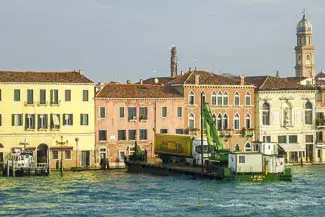 Next to San Basilio was a Billa supermarket (on the ground floor of the yellow building) that was being restocked from a delivery truck on a barge.
---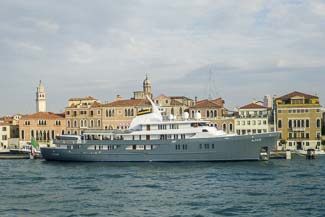 A moment later, we cruised past the yacht Altair III, which is 59 meters (194 feet) long. The ship was built in 1974 as a pilot vessel and converted into a private superyacht in 1996.
---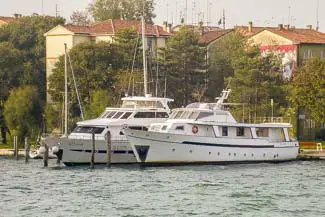 On our right, we passed the Sarah Sun Island B&B, which is housed in two small yachts.
---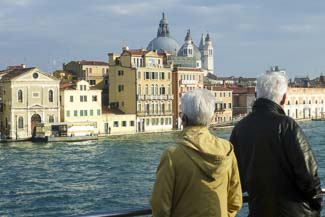 On the port side of River Countess was the Zattere, a sunny pedestrian promenade. The domes behind the waterfront buildings belong to the Basilica di Santa Maria della Salute, which was built in the 17th Century after Venice survived a plague epidemic that killed 46,000 people.
---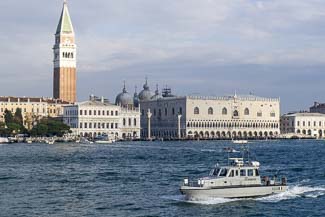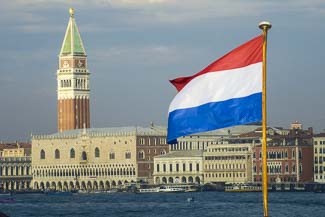 Soon, we were cruising past the Campanile di San Marco and the Doge's Palace, which we'd toured the day before. (The flag on the ship's stern was Dutch, since River Countess is registered in the Netherlands.)
For some surprising facts about the San Marco bell tower--which is only about a century old and was "liberated" briefly by Venetian revolutionaries in 1997--see our Campanile di San Marco article at Venice for Visitors.
---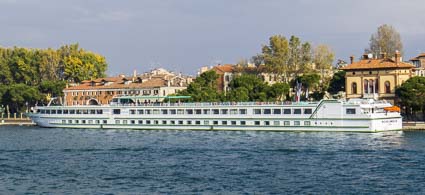 A few minutes later, we glided by CroisiEurope's Michelangelo, a French ship that was tied up behind our own mooring spot along the Riva dei Sette Martiri east of St. Mark's Square.
---
When we reached the eastern tip of Venice's historic center, the captain turned the ship to the starboard and into a channel that was marked by bricole, or clusters of wooden pilings that are used as navigation markers in the Venetian Lagoon. Much of the Lagoon is extremely shallow, especially at low tide, so it's important for ships and larger boats to stay within the channels.
---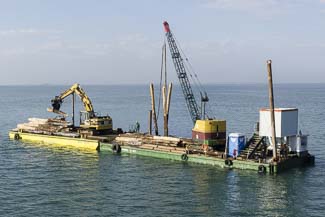 On our way to Chioggia, we passed a maintenance vessel that was replacing worn bricole. (The wooden pilings decay at the waterline, and eventually they collapse into the water if they're left to rot.)
---
---
---
---