River Countess Cruise Photos
From: Uniworld River Countess cruise review
Day 3: Padua shore excursion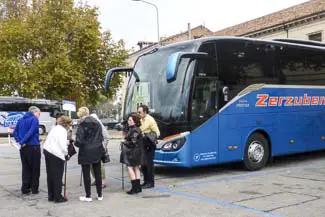 After lunch, we boarded buses for the scheduled shore excursion to Padua, which took about an hour.
The afternoon tour is mandatory on most River Countess cruises, because the ship isn't allowed to carry passengers as it crosses a short stretch of Adriatic Sea to the Po River. (While passengers are ashore in Padua, the ship goes up the river to Taglio Po. Guests rejoin the vessel later in the afternoon and cruise to the river port of Polesella, which is the base for several shore excursions.)
On our cruise, Italian authorities wouldn't let River Countess enter the Adriatic because of rough seas, so the ship stayed in Chioggia for two nights. This resulted in slightly longer bus trips to Bologna and Ravenna, but it gave us time for a walk into the historic center of Chioggia, which is often called a "little Venice" and is well worth visiting.
---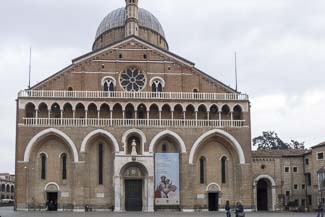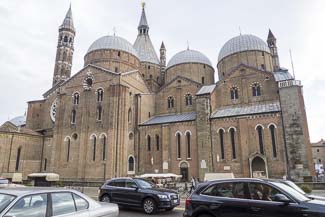 Our Padua tour began with a walk past the Basilica del Santo Antonio, where the remains of St. Anthony attract tens of thousands of pilgrims every year. (Later, we toured the elaborate interior and got a close-up view of St. Anthony's tongue, teeth, and other saintly tidbits.)
---
As we headed toward the middle of town, we passed a multilingual protest banner.
---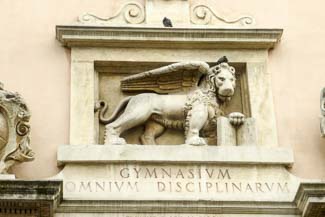 A winged lion reminded us that Padua was under Venetian rule for nearly 400 years, from 1405 until the fall of the Venetian Republic in 1797.
Padua is much older than Venice and, for that matter, most cities in Northern Italy: Legend claims that it was founded in the 12th Century B.C., and it was known to have been settled before the time of Christ.
---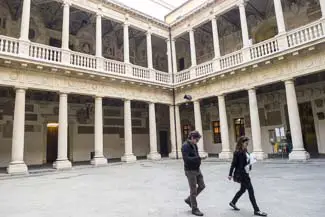 Padua is home to one of the world's oldest universities, which was founded in 1222 and now has some 65,000 students from Italy and abroad. Galileo and Copernicus were just a few of university's famous scholars.
For more than 300 years, the Università di Padova has worn a feminist feather in its cap: In 1678, Elena Cornaro Piscopia, a theology and philosophy student from Venice, was the first woman to receive a doctoral degree from a university.
---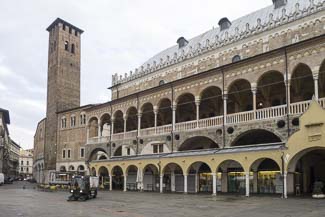 The most important secular building in Padua is the Palazzo della Ragione, or Hall of Justice, a medieval town hall that opened for business in 1219.
---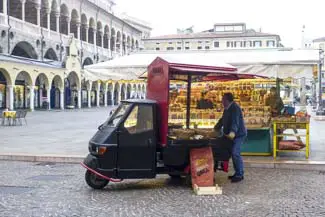 The town hall is located on the cty's main square, the Piazza delle Erbe. Often the square is filled with market stalls, but only a few vendors were out on the gloomy day when we visited.
---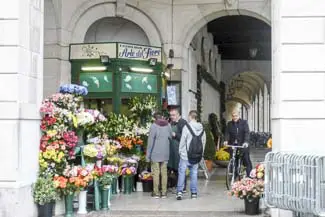 Things were livelier under the city's arcades, where pedestrians and an occasional bicyclist did their shopping or visited cafés and restaurants.
---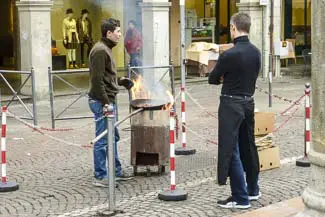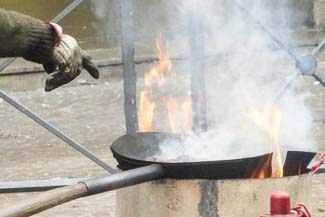 Outside the arcades, a chestnut vendor tended his fire and roasting pan.
---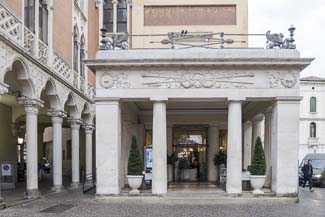 After our walking tour, our guide suggested trying the signature mint-flavored coffee or the free toilets at Caffè Pedrocchi, which as founded in 1772 and bequeathed to the city of Padua in 1891. (The café is on via VIII Febbraio, not far from the Piazza delle Erbe and the Palazzo della Ragione.)
---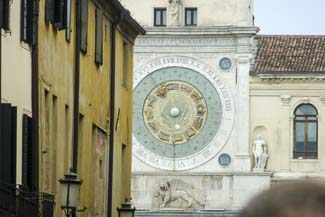 Later, we met up near the clock tower by Piazza Garibaldi, where Uniworld's buses collected us for the drive back to River Countess.
---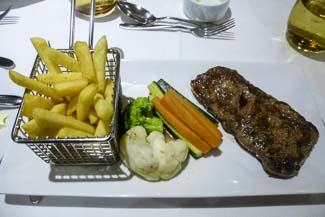 At dinner, Cheryl decided to try a sirloin steak, which was served with vegetables and a metal basket of French fries.
---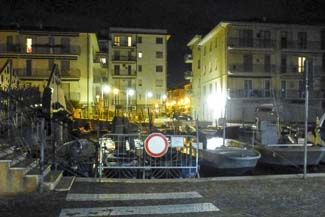 We finished our evening with a walk into Chioggia's city center, which was only a few minutes from the port.
When we set out on our walk, the receptionist warned us to be back by midnight, since the security guard at the port gate went home at 12.
---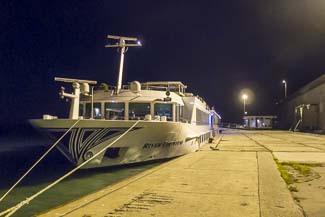 Downtown Chioggia was quiet (most of the action was in a couple of bars where locals were watching a soccer game), so we made it back to River Countess long before the security guard's car turned into a pumpkin.
---
---
---
---