River Countess Cruise Photos
From: Uniworld River Countess cruise review
Day 4: Bologna (3)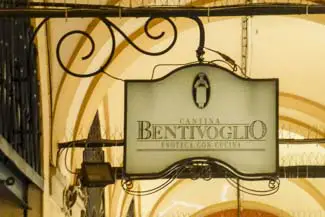 Leaving all thoughts of death and dissection behind us, we exited the Palazzo dell'Archiginnasio and walked under Bologna's arcades to the Cantina Bentivoglio for a pasta-making demonstration and lunch.
---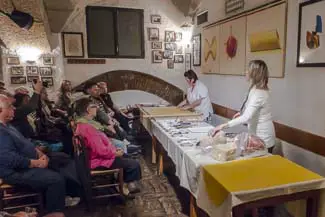 Chairs had been set up inside the restaurant where River Countess passengers could sit and watch a pastry expert from the restaurant and our tour guide (right) show how to make fresh pasta.
---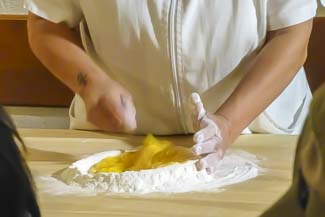 Our pastry instructor showed how to make a wide-rimmed volcano of flour, pour eggs into the crater, and use a fork to beat the eggs faster than the eye (or our camera) could see.

---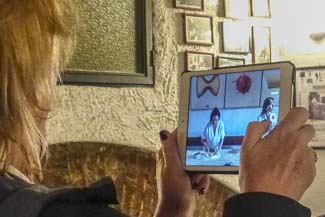 We weren't the only aspiring pastry chefs who took photos for future reference.
---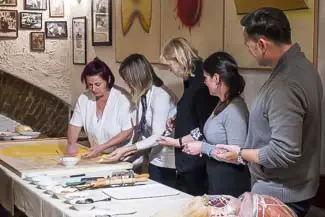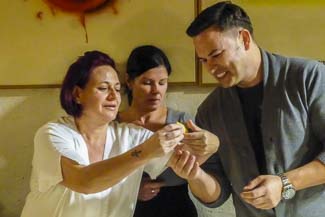 After the dough had been mixed and rolled into sheets, intrepid volunteers from the audience made tortellini and other filled pastas while the rest of us looked on.

---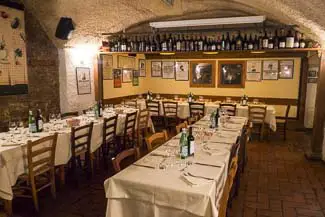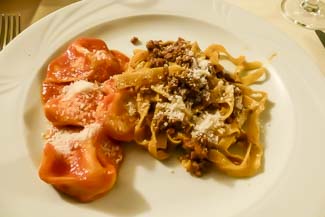 The demonstration at Cantina Bentovoglio was followed by an excellent lunch of mortadella, two types of filled pasta, and fruit salad, with bottles of wine and mineral water on every table.
---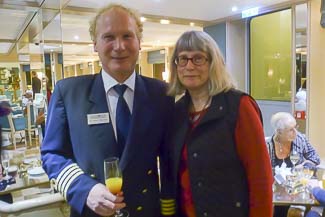 Later in the day, after returning to River Countess, we attended the River Heritage Club cocktail party for guests who had cruised previously with Uniworld. Here, Cheryl is sharing a photo op with the First Captain, Richard Martin of the Netherlands. (In 2015, Captain Martin will command Uniworld's newest ship, the S.S. Maria Theresa, on the Rhine, Main, and Danube.)
---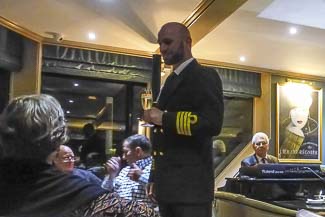 Captan-in-training Thijs Van der Lee chatted with passengers at the reception. (Captain Van der Lee will be the First Captain of River Countess in 2015.)
---
Jan, the ship's resident musician, provided the evening's entertainment in the Castillo Lounge.
---
---
---
---