River Countess Cruise Photos
From: Uniworld River Countess cruise review
Day 5: Ravenna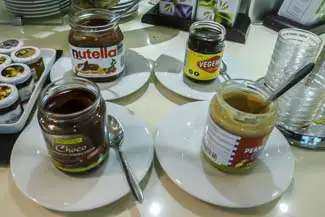 Day 5 started off with breakfast. Uniworld's breakfast buffet had an eclectic choice of things to smear on bread: the usual butter and jams plus a chocolate spread, Nutella, Vegamite, and peanut butter.
---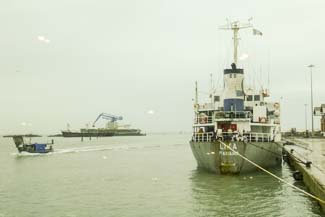 As we left River Countess for our shore excursion to Ravenna, we wondered about the small ship that was moored behind us in Chioggia. (After we got home, we did a Google search and learned that the Lika is a cement carrier owned by a company in Rueka, Croatia.)
---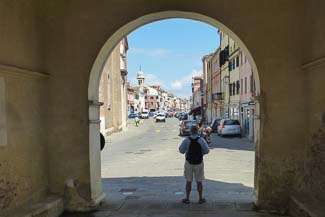 Because River Countess was spending the day and night in Chioggia, passengers who wanted to avoid a bus trip were given the option of a local walking tour with lunch at a fish restaurant.
The photo above is from a previous visit to the town. For a Chioggia photo gallery, click here.
---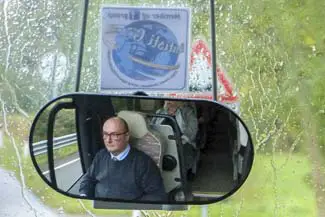 Our morning bus ride took us to Ravenna, which alliterated with the word "rain" (the meterological theme of the day).
---

Ravenna is a pleasant city of 160,000 on Italy's Adriatic coast, south of the Venetian Lagoon and almost due east of Bologna. It's an ancient city that is best known for its exquisite mosaics and the annual Ravenna Festival of classical music, dance, and opera.
---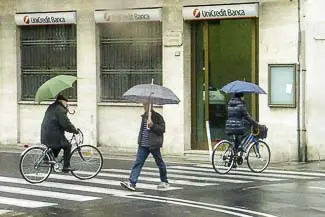 Umbrellas were out as we approached the city center.
---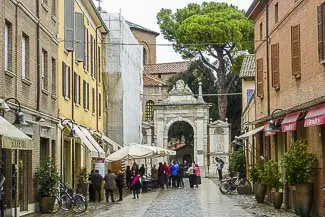 The bus dropped us on the outskirts, where we were divided into groups for rest stops at two cafés before our walking tour began.

---
---
---
---