River Countess Cruise Photos
From: Uniworld River Countess cruise review
Day 5: Ravenna (4)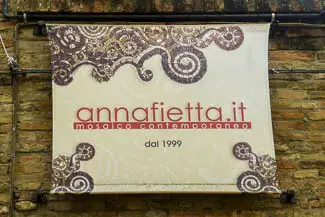 Having whetted our appetite for mosaics, we stopped in at a contemporary mosaic workshop, Annafietta, after saying good-bye to our guide.
---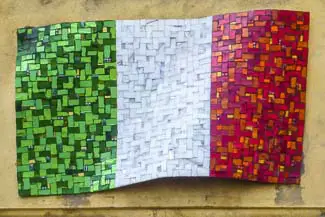 A flag above the workshop's doorway is made of colored glass tessere.
---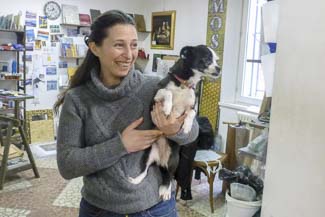 The artist-owner, Anna Finelli, holds court with her canine companion in the Via Giuliano Argentario, not far from the Basilica di San Vitale and the Mausoleo di Gallia Placidia.
---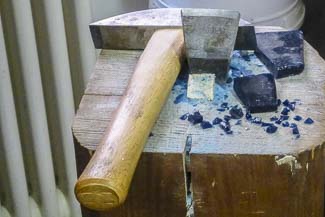 On a worktable, we could see evidence of how tessere are made by shattering or chipping larger pieces of glass.
---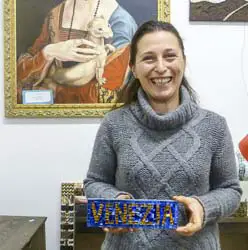 Ms. Finelli has a large variety of mosaic objects and artworks in her shop (the picture frames make handy souvenirs). Since we publish a travel site called Venice for Visitors, we couldn't resist buying a "Venezia" mosaic for 45 euros.
---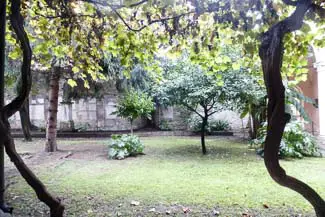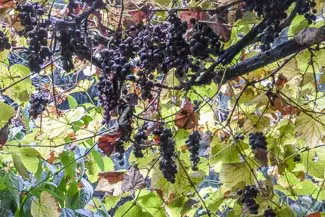 Our walk back to the city center took us past grapevines, which were still laden with fruit in early November.
---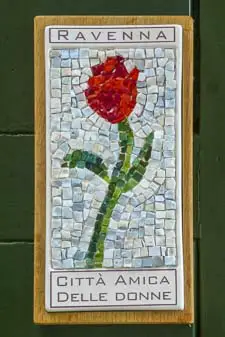 We passed more mosaics, such as this new mosaic poster for Ravenna's campaign to make itself a "woman-friendly city" (more specifically, a city where women can feel safe from domestic violence).
---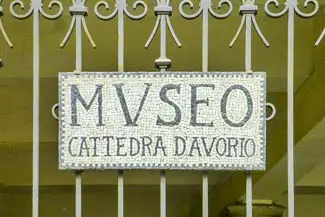 This mosaic sign was on an iron fence next to Ravenna's Duomo, or Cathedral.
---
A number of other River Countess passengers had gone to lunch at the Ca' de Ven restaurant (which is popular with visitors and tourists alike), but we preferred to explore Ravenna's city center during our midday free time.
---
---
---
---