River Countess Cruise Photos
From: Uniworld River Countess cruise review
Day 8: Disembarkation in Venice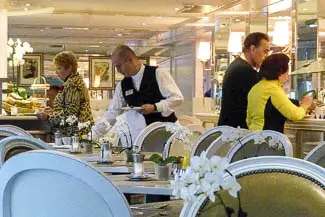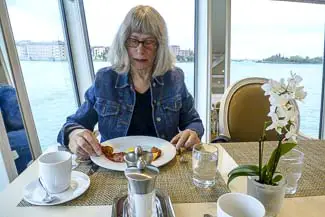 When we went to breakfast on disembarkation day, many of our fellow passengers had left for the airport. (Departure times for guests with early flights started around 4 a.m., but we were in no hurry to go ashore.)
---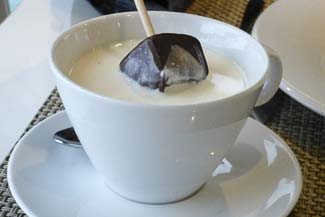 Normally the final breakfast of the cruise is a bittersweet moment, but Cheryl's was more of a milk chocolate moment by the time she was ready to drink her cioccolato caldo.
---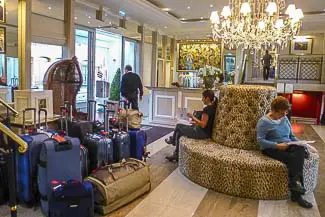 We made a final circuit of the ship after breakfast. A number of passengers were in the reception area, waiting to disembark.

---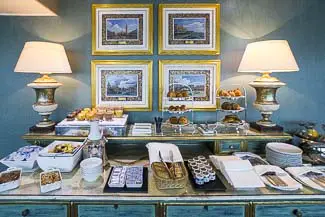 In the Castillo Lounge, a quick breakfast was available for passengers who lacked time for the more elaborate buffet in the main restaurant.
---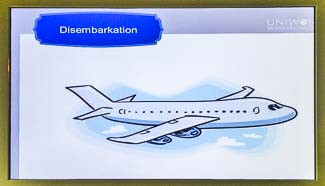 The monitor in the lounge reminded us that it was time to go home. (There wasn't any great hurry, though: We'd been asked to clear our cabin by 8:30 a.m., but we could hang around the ship's public rooms all morning if we liked.)
---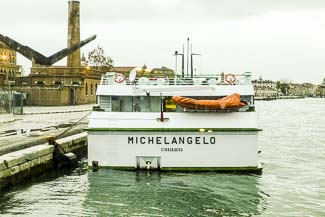 From the Sun Deck, we could see CroisiEurope's Michelangelo behind us and the San Basilio cruise terminal beyond.
---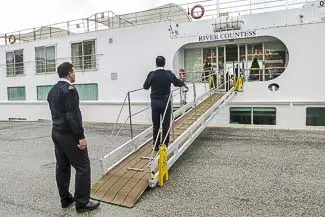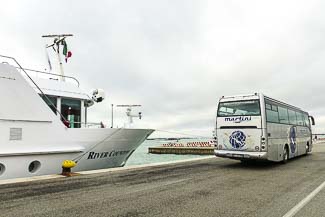 We identified our luggage, which was carried ashore for us, and left the ship. A coach to the airport was waiting on the pier. (We didn't take it, since we were staying in Venice.)
---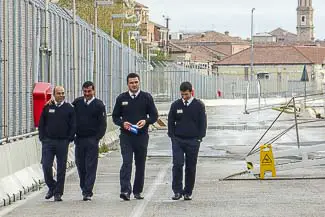 A group of ship's officers strolled along the Santa Marta quay, relaxing after their final cruise of the year. (Later in the day, River Countess would be moved to the industrial port of Marghera, on the Venetian mainland, for winter storage and maintenance.)
---
We left River Countess behind us as we walked toward the port gates on our way to Venice's historic center.
---
---
---
---