River Countess cruise review
Page 6
Continued from page 5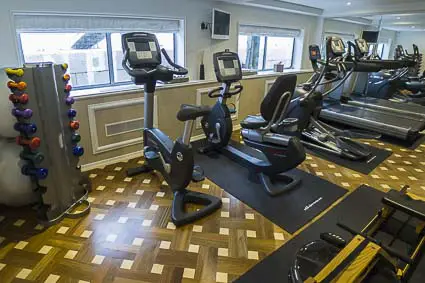 ---
Other amenities
River vessels are smaller than oceangoing cruise ships, and they aren't designed to entertain passengers with water slides, tennis courts, or climbing walls. Still, most river ships do offer amenities to make their cruises more enjoyable, and River Countess is no exception.
Fitness center. The ship's gym on Bellini Deck (see photo above) packs a surprising amount of gear into a small space, including a treadmill, an exercise bicycle, an elliptical trainer, a high-end rowing machine, small weights, and exercise balls. A Sauna is next door.
Spa. The Serenity River Spa, located forward of the cabins on Bellini Deck, offers massages and other treatments. The spa masseuse, who doubles as a "well-being coach," also leads morning exercises in the Castillo Lounge.
Boutique. You won't ever be hustled to buy anything on a Uniworld ship, but if you feel like shopping on board, you can browse for jewelry and other items in the Boutique on Bellini Deck, next to the Patio Lounge.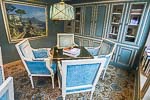 Library. The Captain's Lounge and Library is on Marco Polo Deck, next to the Castillo Lounge. It's larger than the libraries on many river ships, with tables where you can read or play cards and board games. Glass-fronted bookcases hold travel guides, novels, and other books that you can borrow on the honor system.
Laundry. River Countess has a free self-service laundry with two washers and two dryers. It's on Tintoretto Deck, next to the stairs and across from the elevator. (Ask for detergent at the reception desk.)
Laundry service is also available. If you've cruised with Uniworld before, you'll be enrolled automatically in Uniworld's River Heritage Club, which entitles you to one free bag of laundry per person during each week of a voyage.
Wi-Fi. Internet access is free throughout the ship. If you aren't happy with the speed in your cabin, try the public rooms. (We had no problems using Wi-Fi in our suite.)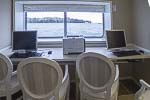 Internet corner. The ship has two Internet-connected PCs on Bellini Deck, next to the Patio Lounge.
A shared printer makes it easy to print out airline boarding passes, hotel confirmations, and other documents.
Umbrellas. Full-size umbrellas are available in cabins and at the gangway.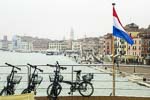 Bicycles and Nordic walking sticks. These are free to use, and they're available in ports where there's time for independent sightseeing.
(Note: You won't be able to ride the bicycles in Venice's historic center, where wheeled transportation is against the law.)
Next page: Shore excursions
---
---
---
---