ms Rotterdam Behind the Scenes
From: ms Rotterdam Cruise Review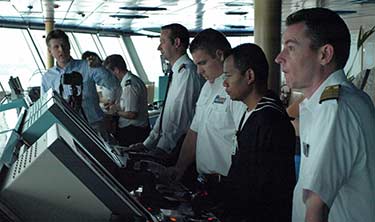 High up on ms Rotterdam, the captain and his deck officers run the ship from the bridge.
In the photo above, which was taken as ms Rotterdam cruised down the Oslofjord toward the North Sea, you can see Captain Rik Krombeen keeping an eye on the water and the navigation instruments. (He's the tall man in the long-sleeved white shirt.)
The helmsman, in a navy-blue sailor's uniform, is flanked by two other officers. Not shown is the Oslo harbor pilot, who had his own station on the bridge.
---