ms Rotterdam Behind the Scenes
From: ms Rotterdam Cruise Review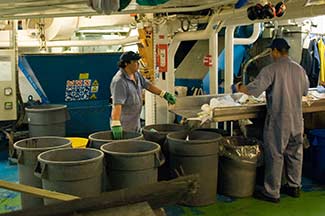 Garbage and recycling
If you ignore your mother's instructions and fail to clean your plate, workers in the ship's recycling center (one deck below the kitchens) will deal with the leftovers. These workers sift through ms Rotterdam's garbage every day, separating recyclables from useless waste.
In the old days, ships simply tossed garbage overboard to the seagulls. Nowadays things are more complicated, and ms Rotterdam has a full-time environmental officer to ensure compliance with the law and Holland America Line's established procedures.
Food waste is shredded, turned into a slurry, and stored in drums until it can be disposed of according to international and local environmental regulations. (In most areas of the world, the crew is allowed to feed shredded organic garbage to the fish after the ship is at least 12 miles offshore. To ensure compliance with regulations, the garbage-disposal crew must obtain a key to the disposal chutes from the bridge. A typical day's organic garbage requires about an hour to discharge.)
Cans and glass are crushed and stored for offloading in port, where it can be recycled.
Paper, cardboard, and plastic are recycled or burned, depending on the ship's location. (When waste is incinerated, the heat is reclaimed for other purposes.)
Oil and other chemicals are offloaded for disposal or recycling.
Sewage treatment
Liquid waste is also subject to international regulations. "Black water" from toilets and the ship's medical center is treated and purified; "grey water" from sinks, bathtubs, and galleys is also treated in the shipboard equivalent of a sewage plant. Although the treated water is pure enough to drink, it's discharged overboard because of the "yuck factor.")
---