ms Rotterdam Behind the Scenes
From: ms Rotterdam Cruise Review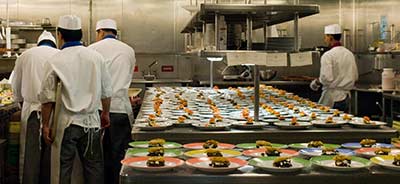 Galley
In ms Rotterdam's main galley, cooks prepare more than 5,000 passenger meals on a typical day.
The kitchen staff consists of 90 crew members (mostly from the Philippines) working under an Austrian chef.
Orders are taken and food is delivered to passengers by 110 waiters, captains, sommeliers, and buffet staff (mostly from Indonesia, with a few Dutch).
---