ms Rotterdam Behind the Scenes
From: ms Rotterdam Cruise Review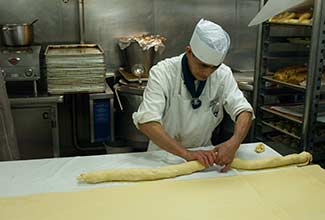 ABOVE: An ms Rotterdam pastry cook rolls up Apfelstrudel before baking. INSET BELOW: Uncut rolls of Strudel in the oven, and linens waiting to be pressed in the ship's laundry.
By Durant Imboden

It's often said that 90 per cent of an iceberg is below the surface, hidden from sight. Ships aren't icebergs, and memories of Titanic make iceberg analogies unpleasant in any case. Still, on a ship like ms Rotterdam, what happens below decks or on the bridge is as important to your cruise experience as the nightly show, the coffee in the Explorations Café, or whether you can find a blanket for your deck chair.

In this series of captioned pictures, we'll show you what goes on in the kitchens, in the provisioning areas, and such places as the recycling room and the ship's laundry. We'll also give you a few glimpses of the navigation bridge during ms Rotterdam's passage down the Oslofjord to the North Sea.
For even more insights into what it's like to cruise in Europe with Holland America Line, see our 10-page ms Rotterdam cruise review and our 156-page ms Rotterdam cruise photo gallery.