ms Rotterdam Cruise Review
Page 8
Continued from page 7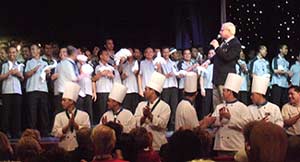 ABOVE: The officers, cruise director, and crew made a farewell appearance on the last full day of our cruise.
Crew
The ms Rotterdam has a crew of 600 to serve 1,404 passengers, which translates into a passenger-crew ratio of 2.34. This is somewhere between the PCRs of the small-ship luxury lines and the mass-market megaships, and it's what you'd expect of a premium cruise line.
Like other Holland America Line ships, Rotterdam is staffed mostly by Dutch and British officers with Indonesian and Filipino sailors and hotel crew.
Holland America Line's crew standards are high, and the company leaves little to chance: For example, officers keep their navigation, ship-handling, and technology skills up to date by training with a state-of-the-art ship's bridge simulator. Hotel staff reportedly undergo training in their home countries before being assigned to ships.

Now and then, ms Rotterdam's officers and crew go beyond the call of duty. In July, 2009, Captain Rik Krombeen (on left in inset photo) helped a would-be bridegroom named Cees Korporaal propose from shore to a female passenger, Michelle Aulman, who was on board as the ship departed on a cruise from Rotterdam.
Service

We were favorably impressed by the Rotterdam crew's service and attention to detail: For example, on our cruise--where 95 percent of the passengers were Dutch--we were often greeted in Dutch as we walked down the corridors, and the hotel staff went out of their way to order a fresh supply of Grolsch (a beer from the Netherlands) when Dutch passengers emptied that brand of beer from the bars as we steamed toward Scandinavia.

The La Fontaine Dining Room staff couldn't have been better: We sat at the same table each night, and both our waiter and the sommelier were friendly, accommodating, and thoroughly professional.
Service in the Pinnacle Grill was just as good, and the staff in the Lido Restaurant worked hard at keeping plates filled and guests happy in the buffet lines at breakfast and lunch. The staff by the Lido Pool also were quick to clean tables and replace cutlery and napkins for patrons of the Terrace Grill.
Housekeeping service was mostly fine, and our cabin steward (a different crewman than the steward in the inset photo on this page) was always quick to make up the stateroom when we were out. There were a few hiccups, such as a delayed suitcase delivery on the first day and an erratic pattern of towel changes in the bathroom, but the glitches were minor and didn't detract from our enjoyment of the cruise.
Tipping

Tips are an important source of income for housekeeping and foodservice employees on most cruise ships. To simplify matters for passengers, Holland America Line automatically bills a "hotel service charge" to your account, with the proceeds being divided among cabin stewards, dining-room staff, and behind-the-scenes workers in places like the kitchen and laundry.
You can adjust the automatic hotel service charge up or down by visiting the reception desk at the end of the cruise. If you wish, you can slip something extra to individual stewards, waiters, etc. who have done an outstanding job. (Individual tips should be paid in cash, preferably in dollars or euros.)
Note: A 15-percent service charge is added to bar tabs, and many people tip room-service waiters in cash.