Holland America Line
ms Rotterdam Photo Gallery
From: ms Rotterdam Cruise Review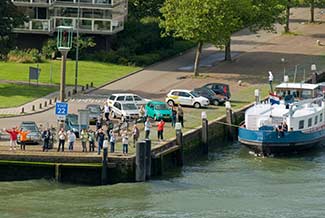 Rotterdam departure
As we continued down the Nieuwe Maas, we encountered more groups of people who'd come down to the river to see ms Rotterdam.
Captain Rik Krombeen blasted the ship's whistle many times between Rotterdam and the Hook of Holland. He later explained why:
After the ship's first call in Rotterdam, the harbormaster asked Captain Krombeen not to blow the whistle so often. Following ms Rotterdam's second (and quieter) visit, the harbormaster got complaints from citizens who were disappointed by the lack of whistle-blowing. Finally the harbormaster said, "Just blow the whistle," and the captain found a compromise solution: He now blasts the whistle while heading downriver in late afternoon, but keeps his finger off the whistle button when the ship arrives during the early mornng hours.
---