Holland America Line
ms Rotterdam Photo Gallery
From: ms Rotterdam Cruise Review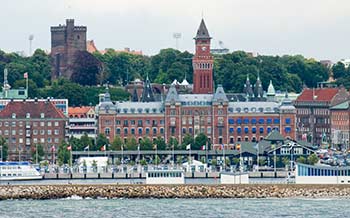 Helsingborg, Sweden
Our first port of call was the attractive Swedish city of Helsingborg on the øresund, the strait that separates Denmark from Sweden on the shipping route between the North Sea and the Baltic.
Helsingborg has a population of about 90,000 and is a quick ferry ride from the Danish city of Helsingør, a.k.a. "Elsinore," where Kronburg--the castle featured in Shakespeare's Hamlet--is a big draw with visitors.
Although ms Rotterdam offered shore excursions to Helsingør and other attractions, we were content to stay in Helsingborg (which we'd visited before) during Rotterdam's short visit.
---