ms Rotterdam Cruise Review
Page 10
Continued from page 9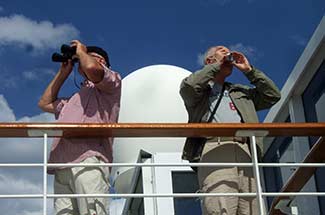 ABOVE: Two Rotterdam passengers scan the horizon with binoculars during the ship's departure from Copenhagen.
Holland America Line and ms Rotterdam Web links
Official Web sites

Holland America Line
The cruise line's Web site has most of the information that you're likely to need about ms Rotterdam and the company's European itineraries, though some topics (such as accessible cruising and children's programs) are hidden in unexpected places like the "For Booked Guests" section.
Holland America Line also has a blog, a Twitter account, and a Facebook page.
Other resources
European Cruise Guide europeforcruisers.com
Our easy-to-use directory is updated each year with information about European itineraries from nearly 60 cruise lines that serve English-speaking passengers (including Holland America Line).
Wikipedia: Holland America Line
The online encyclopedia has a short article on HAL's history and current ships.
Inset photo copyright © Holland America Line.