Silver Spirit Cruise Photos
From: Silver Spirit Cruise Review
Port of Ajaccio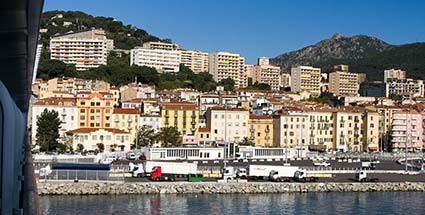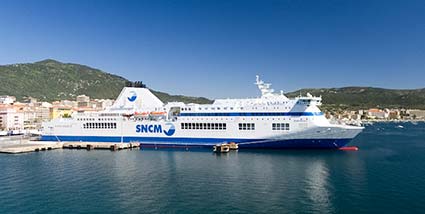 Silver Spirit arrived in the French port of Ajaccio, Corsica at 8 a.m.
From our veranda, we could see downtown Ajaccio rising up in tiers from the waterfront, with a car-passenger ferry of SNCM tied up at a pier nearby. (SNCM, which is now Maritima Ferries, operates ferries on several routes between Marseille and Corsica.)
---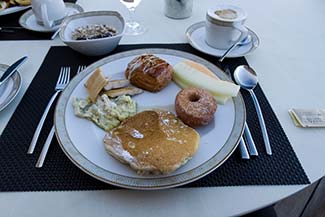 With a long day of sightseeing ahead of us, we loaded up our fuel tanks with a good breakfast: in Durant's case, a plate of herring, mackerel, pastries, a pancake, and two slices of melon, with a small bowl of Muesli on the side. (Not the most nutritious breakfast, perhaps, but with only 24 hours left before disembarkation, self-indulgence was easy to rationalize.)
---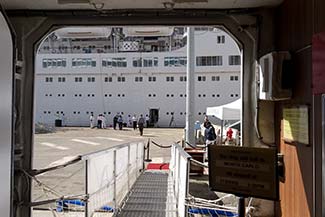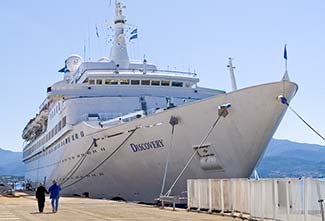 As we left Silver Spirit, we could see another ship moored across from us: MV Discovery, which began life as the Island Venture in 1972 and is currently operated by Voyages of Discovery.
---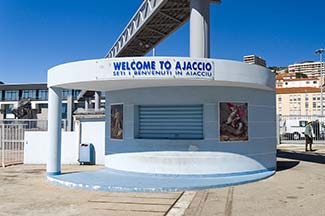 The "Welcome to Ajaccio" information booth was closed as we walked toward the cruise terminal, but no matter: We'd already picked up a free Ajaccio: Napoleonic Call city map at the Slver Spirit shore concierge's desk.
---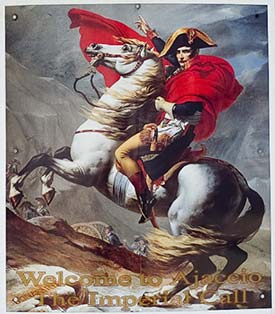 A poster on the information booth left us in no doubt about Ajaccio's most celebrated native. In the painting by Jacques-Louis David, Napoleon Bonaparte makes a dashing figure on Marengo, his favorite horse (which just happens to rhyme with "Corse," the French name for "Corsica").
---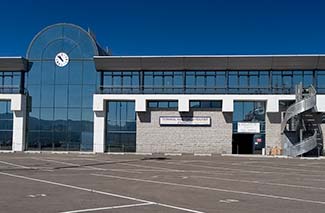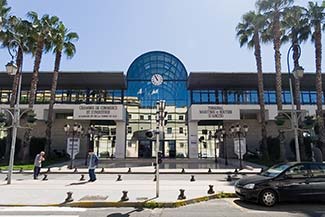 We cut through the Terminal Maritime et Routier, a.k.a. the Maritime Station, and found ourselves on the main street behind Ajaccio's waterfront.

---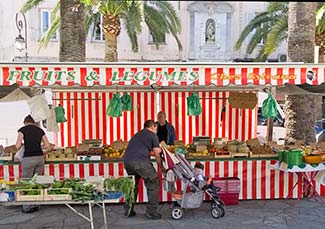 Our map showed that the Public Market was just up the street, so we turned left and headed for the Place Foch.
---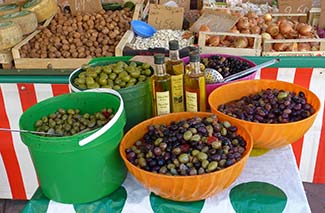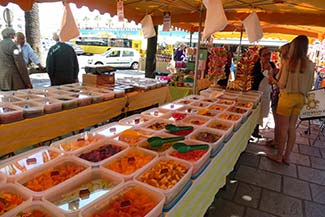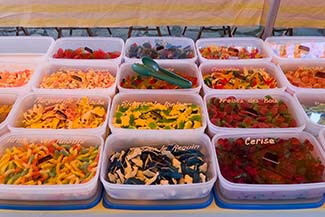 The market was a true local street market--not just a tourist market--with fruits and vegetables, meats, bulk olives, gummi candies, and other staples of daily life.
---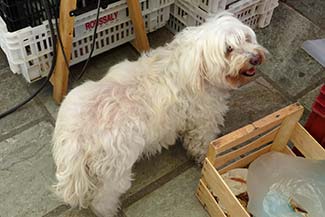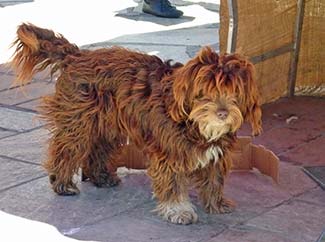 Dogs were in plentiful supply, accompanying both shoppers and the owners of market stalls.
---
More animals (albeit carved ones) were evident at the Place Foch with its statue of the "Roman Emperor" Napoleon and the Fountain of the Four Lions.
---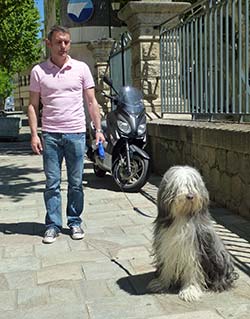 While walking from the Place Foch to Ajaccio's central business district, we encountered a man with a Bearded Collie named "Tigre," who--except for his grey-and-white coloring--could have been a dead ringer for our own Beardie (who stars in the "Maggie in Venice" dog blog).
---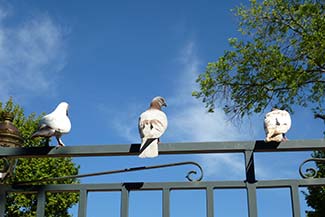 Nearby, a partial pride of pigeons made us think of the Rolling Stones song, "I'm Just Sittin' on a Fence."
---
---
---
---