Silver Spirit Cruise Photos
From: Silver Spirit Cruise Review
Port of Alghero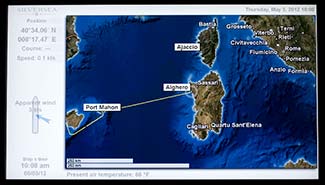 When we turned on the TV the next morning, Silver Spirit's live map showed that we were in the port of Alghero, Sardinia.
---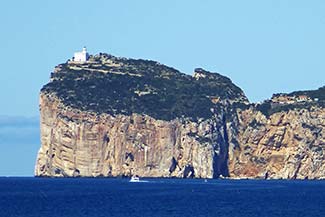 We opened our balcony's curtains and saw Capo Caccia, a precipitous point of land at the mouth of Alghero's harbor.

---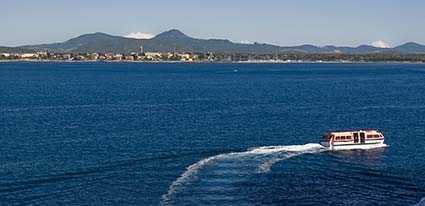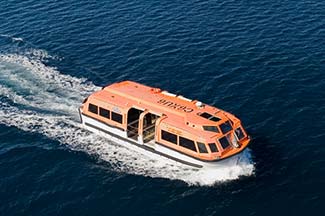 Alghero was the first and only tender port of our cruise. Silver Spirit was already anchored in the harbor, and one of the ship's two tenders was headed toward the city's waterfront.
---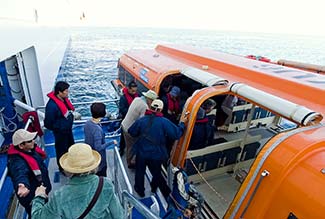 On larger ships, going ashore by tender can be annoying and time-consuming: Typically, passengers need to pick up a "tender ticket" for a certain time at reception, then wait in a theatre or lounge until their group number is called.
Not so on Silver Spirit. When we were ready to go ashore, we simply went below, followed the signs to the exit hatch, and boarded the waiting boat. (The ship's two tenders shuttled back and forth between Silver Spirit and Alghero's waterfront throughout the day.)

---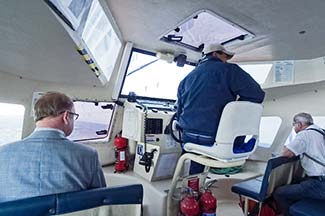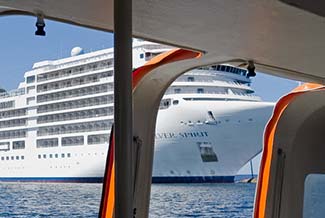 There were plenty of empty seats inside the tender when we went ashore after a leisurely breakfast.
---
It took only a few minutes to reach the waterfront next to Alghero's medieval center.
---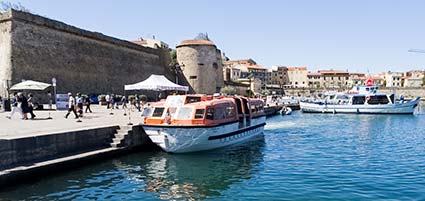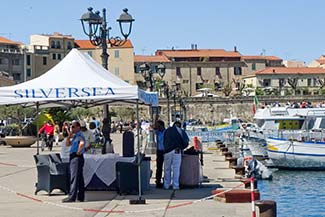 The tender landing couldn't have been more convenient: It was just outside the Old City's walls, on a promenade that was used by locals, tourists, and sightseeing boats.
---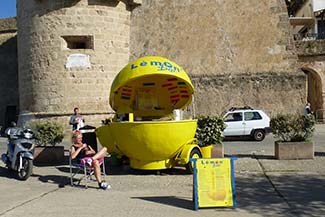 Near the tender landing, a "Lemon Bar" sold lemonade and other lemon-based refreshments.
---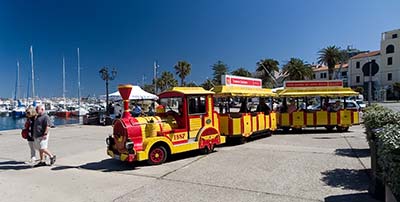 A rubber-tired "tourist train" was on hand for visitors who preferred riding to walking.
---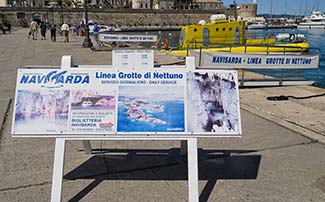 Signs on the waterfront advertised boat excursions to the Grotte di Nettuno (Neptune's Grottos) on the other side of the Capo Caccia, across the bay.
---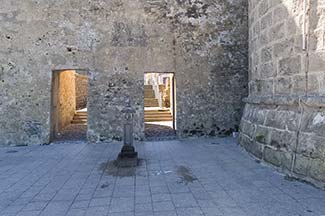 We'd put the Grotte di Nettuno on our "to do" list for another trip, but for this visit to Alghero, we planned to stay in the city, so we cut through a portal in the walls to enter the Centro Storico.
---
---
---
---