Silver Spirit Cruise Photos
From: Silver Spirit Cruise Review
At sea -- ship tour (3)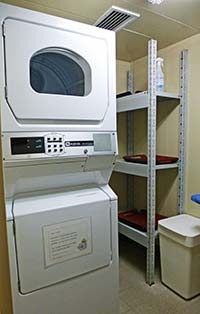 Just down the corridor from our suite was one of several Laundromats on Silver Spirit. There' s no charge to use the self-service laundries, and detergent is free. The laundromats also have ironing boards and steam irons.
---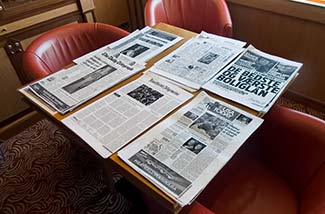 In the Library on Deck 7, passengers can borrow books, DVDs, and magazines on the honor system. The Library also has a cluster of PCs and an assortment of daily newspapers in several languages. (The newspapers are downloaded by satellite and printed on board)
---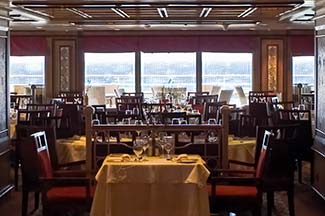 Aft of the Library is La Terrazza, which is a buffet restaurant at breakfast and lunch.
At dinnertime, La Terrazza becomes a specialty restaurant with table service and a varied Italian menu that normally changes at least once during the voyage. Reservations are recommended, but there's no surcharge.

---
This gold service plate reflects La Terrazza's elegant atmosphere in the evening.
---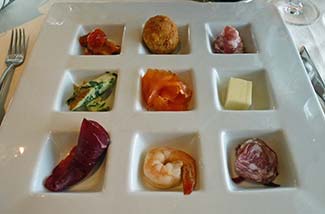 Tip: At dinner, try La Terrazza's antipasto assortment, which is a large rectangular plate with samples of more than a dozen appetizers in separate compartments.
---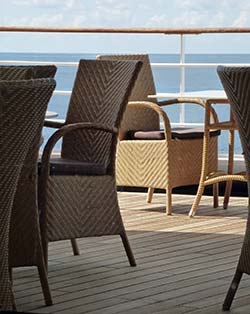 La Terrazza also has outdoor tables--many of them sheltered by a canopy--and we had breakfast outdoors every day but one during our cruise. (On that day, the wind and rain forced us and La Terrazza's waiters indoors.)
---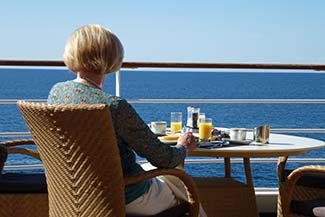 When the weather turned warmer, we encountered competition for tables near the railing, but there was always enough room for us to eat outdoors.
---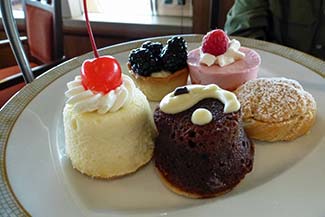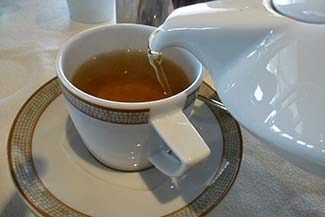 In addition to meals, La Terrazza serves afternoon tea. After you sit down, a waiter brings a stand with plates of sandwiches and pastries. You're then invited to choose from a long list of teas, tisanes, and infusions.
---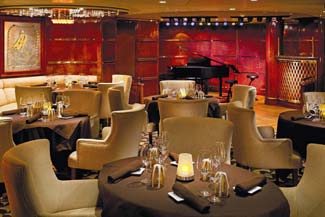 Deck 7 is also home to the Stars Supper Club, a reservations-only restaurant and nightclub. The food is built around a chef's tasting menu of sorts, with multiple courses of this and that. Entertainment is what you'd expect in a "supper club," with an emphasis on piano, vocals, and jazz.
---
---
---