Silver Spirit Cruise Photos
From: Silver Spirit Cruise Review
At sea -- ship tour (8)
We haven't yet discussed The Restaurant in this ship tour, mostly because The Restaurant was still serving breakfast when we began taking pictures on our sea day between Málaga and Palma de Mallorca. So let's see what Silver Spirit's main dining room has to offer:
---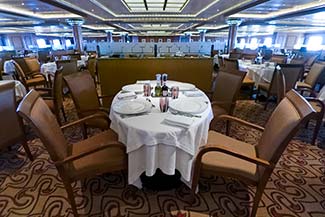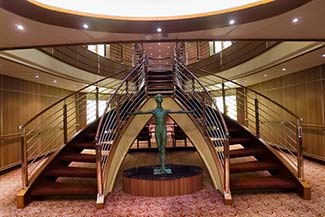 The Restaurant is on Deck 4. Its entrance is next to Silver Spirit's main staircase.
As you enter The Restaurant, you'll be greeted by the maitre d', who will seat you at a table with other passengers or on your own, as you prefer. (Like the dining rooms on all Silversea ships, The Restaurant has an "open seating" policy, and you can arrive whenever you wish during meal hours.)
---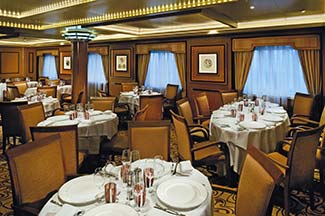 The Restaurant's decor is luxurious, with a traditional feel. Tables accommodate anywhere from two to eight or more guests. (On our voyage, which was fully booked, we never had trouble getting a table for two when we wanted one.)

---
As on many upscale cruise ships, The Restaurant emphasizes gastronomic menus and artistic presentation. Still, if you prefer plain food to fussiness, you can order a steak with fries, grilled chicken, or another no-nonsense dish.
There's no extra charge for house wines, beer, mineral water, cocktails, or after-dinner espresso. The sommelier will be happy to offer fine wines at extra cost, and premium-wine packages are available for oenephiles.
---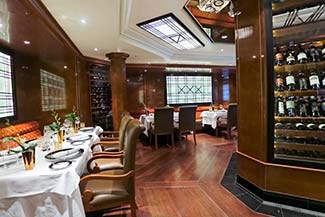 Le Champagne is a small, exclusive dégustation dining room for serious foodies and wine fanciers. It's located on Deck 4, near The Restaurant. (Reservations are required, and there's a cover charge.)

---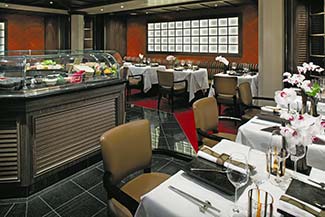 Another surcharged, reservations-only restaurant is Seishin, also on Deck 4. It specializes in sushi and other Japanese dishes.

---
---
---