Silver Spirit Cruise Photos
From: Silver Spirit Cruise Review
Cádiz (3)
We're city people with an interest in urban life and design, so--in spite of the lingering drizzle--we walked around the center of Cádiz after we'd left the Mercado Central and enjoyed the everyday sights:
---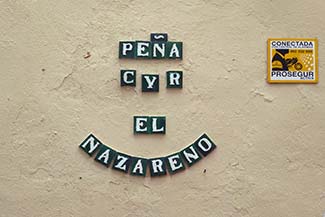 We liked this sign on a stucco building façade, which was made from Scrabble-like tiles. (Note the miniature tile for the tilde above the first "N.")
---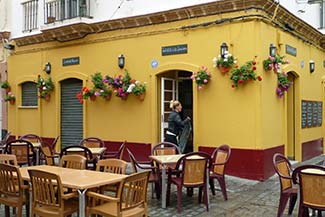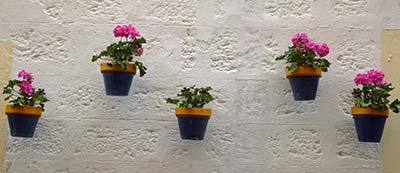 Hanging flowerpots are a common sight in the Old Town of Cádiz.

---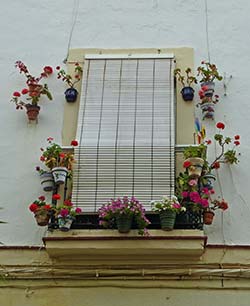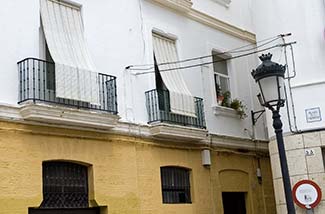 Exterior window shades or blinds are popular in Cádiz and many other Spanish cities. The shades can be draped over the railings of apartment balconies, where they allow ventilation even as they block out the sun or protect against rain.
---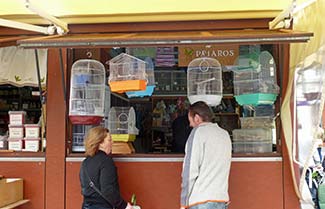 Many Cádiz residents keep birds as pets. On most days, the weather is mild enough for birdcages to be hung outdoors on house walls or apartment balconies. (This photo shows a birdseller's stall in the Old Town.)

---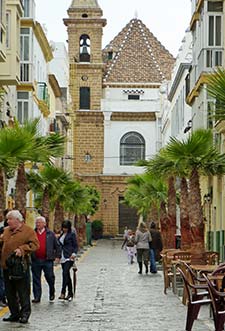 The city center of Cádiz is a delightful place, with a pedestrian zone, cafés, churches, ancient fortifications, and other urban amenities.
---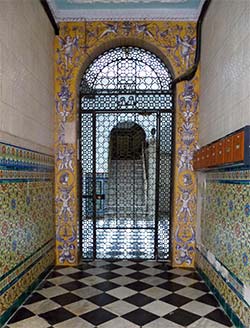 As we walked around downtown Cádiz, we discovered plenty of interesting things to see, including this over-the-top building lobby. Note the tiles on the floor and walls, the decoration around the archway, and the ornate grillwork.
---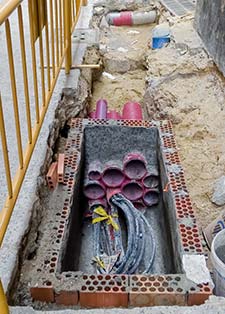 We even got a view of the city's underground scene, thanks to a utility crew.
---
---
---