Silver Spirit Cruise Photos
From: Silver Spirit Cruise Review
Embarkation in Lisbon (2)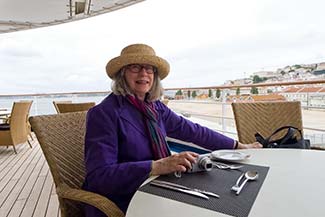 Our suite wasn't yet ready, so the embarkation staff took charge of our carry-ons while we had a buffet lunch at La Terrazza. (The day was cool and grey, and we were among the few passengers to choose a table outside.)
---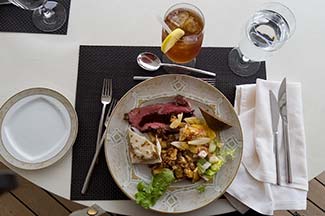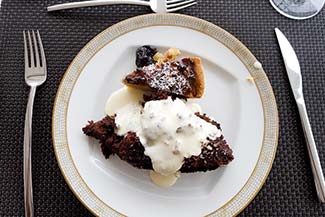 The meal was excellent, although the chocolate desserts looked richer than they tasted. That may have been just as well, since it helped us avoid temptation at subsequent meals.
---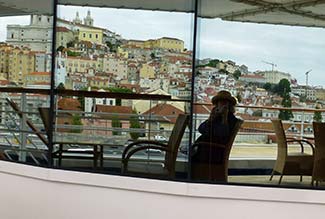 The view from our outdoor table couldn't have been better. Cheryl took this photo of Lisbon's Alfalma district by aiming her camera at the reflective windows of La Terrazza.

---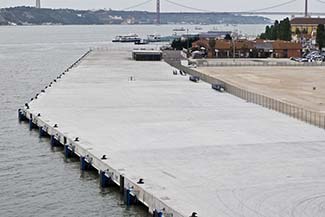 After lunch, we explored the ship and our surroundings. This is a view from the stern of Silver Spirit, showing the Santa Apolónia pier and the Doca do Jardim do Tabaco beyond.
The Porto de Lisboa has been on a pier-building binge, and when its new cruise-terminal project is finished, most cruise ships will be able to moor near the downtown Lisbon waterfront instead of using the older Alcântara cruise terminal on the city's western outskirts.
---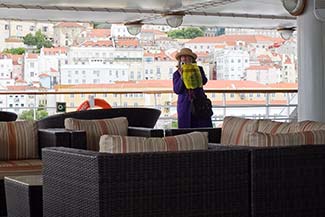 Here, Cheryl is standing on the open deck behind the Panorama Lounge (Deck 9), with the city of Lisbon at her back.
---
---
---