Silver Spirit Cruise Photos
From: Silver Spirit Cruise Review
Embarkation in Lisbon (4)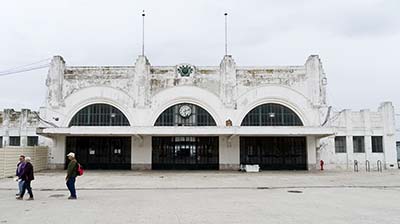 After we'd unpacked, we had several hours until the compulsory lifeboat drill, so we left the ship and walked along the waterfront to Lisbon's Baixa business district. Along the way, we passed the derelict Terreiro do Paço ferry terminal.
Until 1999, railroad travelers took passenger ferries from here to Berreiro, on the south bank of the Tagus River, if they wanted to catch trains to the Algarve and other regions of Southern Portugal. (We used the terminal ourselves during a trip from Albufeira to Lisbon in 1982, connecting from train to Lisbon on a vintage wood-paneled boat.)
---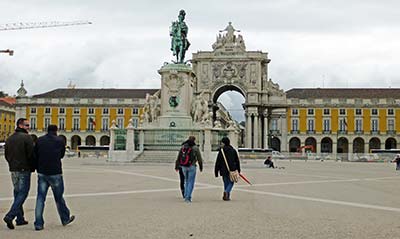 The main square on Lisbon's waterfront, the Praça do Comercio, was about a 15-minute walk from the ship.
---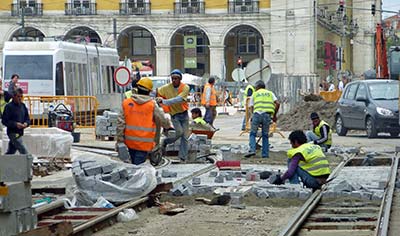 On the north side of the square, we passed transit- and road-construction crews on our way into the downtown business district.

---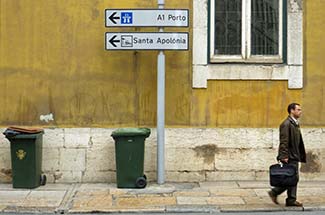 Much of central Lisbon has an old-fashioned vibe, and the city feels less hectic (with less car traffic) than Paris or Rome.
---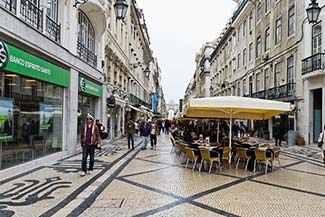 Several pedestrian streets run through the Baixa (central Lisbon's business district), with shops on both sides and cafés up the middle. In this picture, you can see the black-and-white stone paving that is a common feature of Portuguese sidewalk design.
---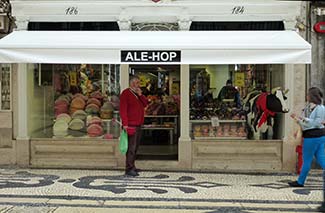 We'd already spent several days on Lisbon, and the rain was putting a damper on our outing, so we did some last-minute shopping before heading back to Silver Spirit.
We couldn't figure out why the store above was named "Ale-Hop," since it had nothing to do with beer and featured a cow in its logo. We've since learned that Ale-Hop is a retailer of accessories, gifts, and decorative items with 56 stores in Portugal and Spain.
---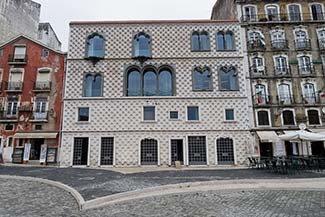 During our walk back to the ship, we passed a fortress-like building that had been newly renovated.
---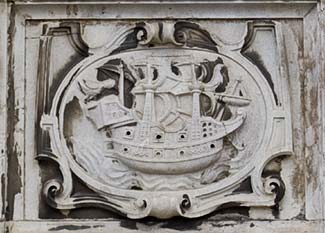 Nearby, a bas-relief on another building featured a traditional Portuguse maritime theme.
---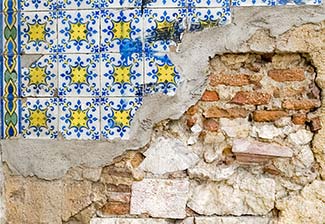 Just beyond, a crumbling façade showed what's behind Lisbon's many tile-faced buildings. Note the hand-built wall of bricks, stone blocks, and mortar underneath the azulejo tile and cement.
---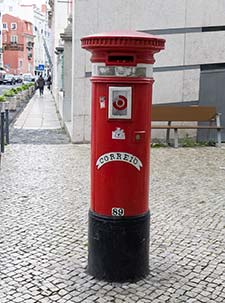 As we got closer to the cruise terminal, we encountered this pillar-style mailbox that resembled a navigation light.
---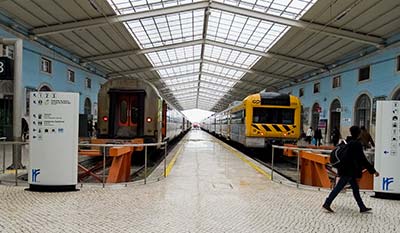 We couldn't resist going inside the Santa Apolónia Railroad Station, which was just across the street from the Santa Apolónia Cruise Terminal and Silver Spirit. (Santa Apolónia is the oldest train station in Lisbon, but it's clean, attractive, and well-maintained.)
---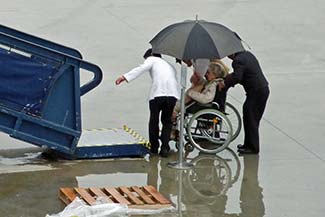 Back on the pier, latecomers were boarding Silver Spirit--among them, a lady whose wheelchair needed to be carried up the gangway by the ship's crew because the cruise terminal didn't have a modern boarding bridge.
---
---
---