Silver Spirit Cruise Photos
From: Silver Spirit Cruise Review
Embarkation in Lisbon (5)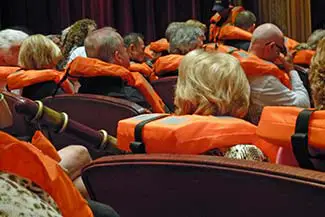 At 6 p.m., Silver Spirit had a mandatory lifeboat drill. Passengers were told to bring their lifejackets to their muster stations (either The Bar or The Show Lounge).
During the first half of the drill, we were shown how to put on our lifejackets. An officer explained that Silversea's policy in an emergency was to have passengers assemble indoors, in a dry and comfortable location, instead of going directly to a potentially wet and windy open deck.
---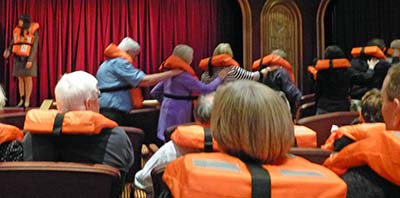 After the safety presentation, we left the Show Lounge for our lifeboat station on Deck 5, with each passenger holding onto the shoulder of the person ahead. (It felt a bit like a conga line or a corporate bonding exercise.)
---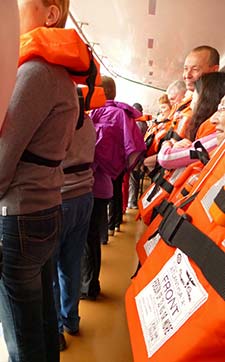 On deck, we lined up in rows, ready to board our lifeboats if necessary. (Since we were still at the pier in Lisbon, using the lifeboats seemed unlikely.)
Members of the crew used barcode scanners to make sure that all passengers were present and accounted for.

---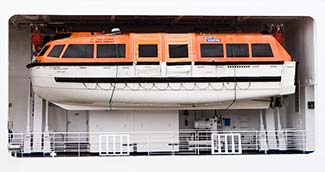 Silver Spirit has four enclosed lifeboats and two tenders. (The tenders are also used to ferry passengers ashore in ports where the ship can't tie up at a pier.)
---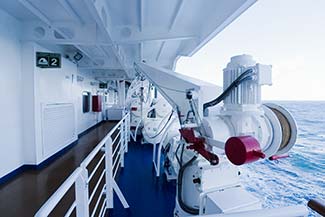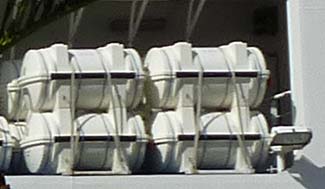 In addition, Silver Spirit has Survitec Zodiac davit-launched SOLAS liferafts that can be inflated and lowered from the ship like boats. (The rafts are stored in protective canisters.)
---
If all else fails, or if a passenger falls overboard, there's always the traditional low-tech solution.
---
---
---
---