Silver Spirit Cruise Photos
From: Silver Spirit Cruise Review
Embarkation in Lisbon (6)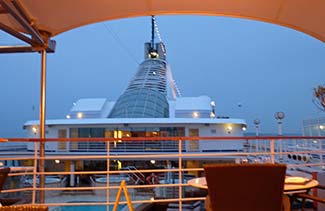 We'd asked our butler to make reservations for us at The Grill (more colloquially known as "Hot Rocks"), a small specialty restaurant that serves dinner in the open air on Deck 10, overlooking the pool and the ship's stack.
---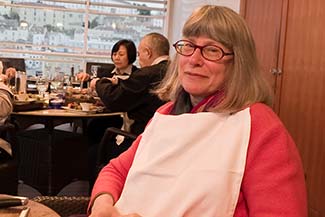 It was a cool and rainy night, but most of the tables were sheltered by a large canopy and warmed by electric heaters overhead. The staff kept blankets on hand for guests who needed extra warmth.
---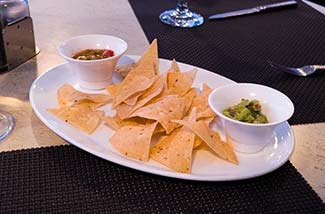 The meal began with an appetizer of homemade tortilla chips, salsa, and guacamole.
---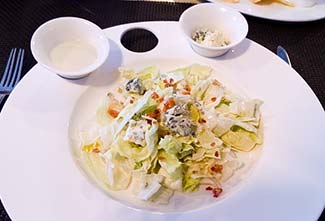 The chips were followed by a New York bleu-cheese salad (shown), a Caesar salad, or tossed salad greens.
---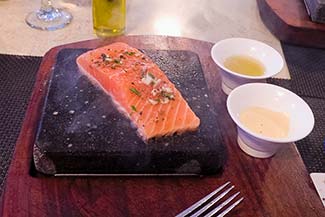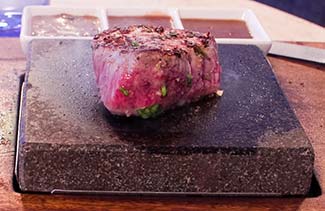 For the main course, our waiter brought wooden trays that held slabs of lava rock that had been preheated to 700 degrees Fahrenheit or 370 degrees Celsius. Durant had ordered salmon, and Cheryl's rock held a filet mignon.
In theory, we were in charge of the cooking, but our waiter offered advice and intervened as necessary. He also brought each of us a large baked potato and a skewer with peppers and other vegetables that we could cook to our tastes on the lava rocks.

---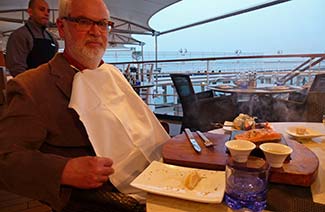 Our bibs were intended to protect our clothing against sizzling juices from the lava rock, not from our own clumsiness (or so we were led to believe).
---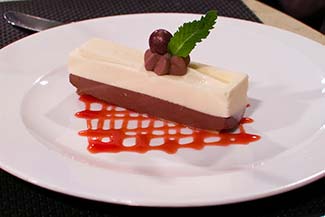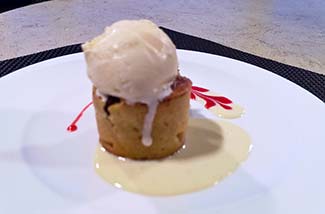 Several dessert options were on the menu. Cheryl chose the white and dark chocolate mousse, and Durant had the single-serving apple pie with vanilla ice cream.
---
---
---
---