Silver Spirit Cruise Photos
From: Silver Spirit Cruise Review
Embarkation in Lisbon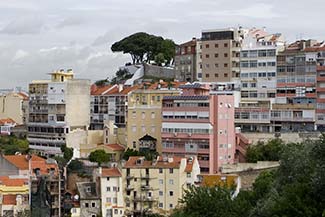 Our embarkation day began at the Albergaria Senhora do Monte (the two buildings to the right of the trees near the top of the photo). The hotel has one of the most spectacular views in Lisbon, and most rooms have balconies or terraces.
We first stayed at the Senhora do Monte with our 3½-year-old daughter 30 years ago, and both the hotel and its neighborhood of Graça are as appealing now as they were in 1982.
The hotel is also convenient to the downtown Baixa district and Alfalma if you don't mind a bit of hill-climbing or riding Lisbon's historic trams.
---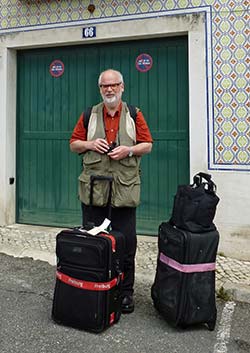 We're compulsive pedestrians, so we decided to walk to the Santa Apolónia cruise terminal instead of taking a cab.
---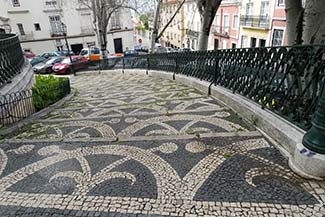 Fortunately, the walk was downhill, the cobblestones were dry after the previous day's heavy rain, and we encountered only a few steps (such as these at the Church of Santa Clara, which we managed to avoid by skirting the church square):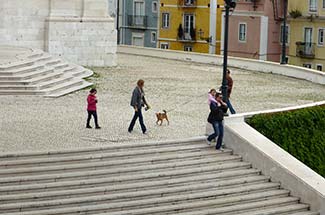 ---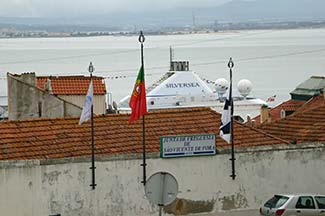 About 20 minutes after leaving our hotel, we saw Silver Spirit's stack above the red-tiled rooftops along the Tagus riverfront.

---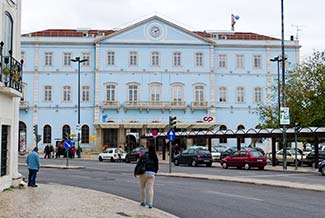 We passed the Santa Apólonia Railroad Station, which is used by long-distance trains to Northern Portugal, Spain, and points beyond. (See our Europe for Visitors article about the Lisbon-to-Madrid Night Train from Santa Apólonia.)
---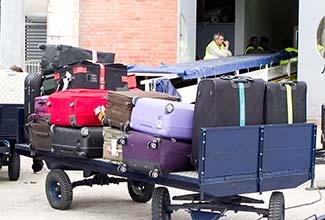 A Silversea representative met us at the door of the Santa Apolónia Cruise Terminal (across the street from the railroad station), where our baggage was taken from us and loaded onto a cart for delivery to the ship.

---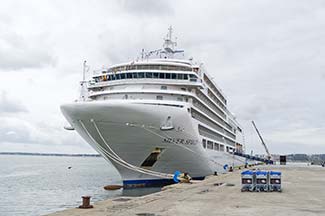 Inside the terminal, we presented our cruise documents to the Silversea staff, went through security, and exited the building to the pier. (There were no lines, and we didn't have to take a number or wait for our group to be called.)
---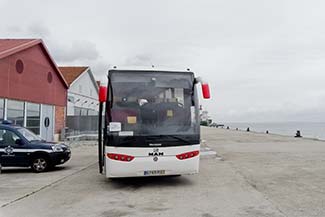 A shuttle bus was outside the terminal building, but we preferred to walk the short distance to Silver Spirit's gangway.
---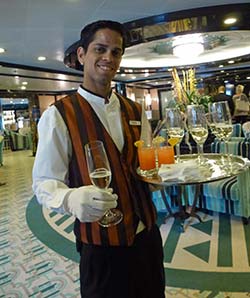 After we boarded Silver Spirit and had our photos taken, a bar waiter named Vismal greeted us with a choice of Champagne or fruit juice.
The photos taken during embarkation were for security purposes only: Silversea doesn't have a ship's photographer, so Silver Spirit passengers needn't smile or wince for the camera when they're having dinner, meeting the captain, or participating in the boat drill.

---
---
---