Silver Spirit Cruise Photos
From: Silver Spirit Cruise Review
Málaga and Alhambra (2)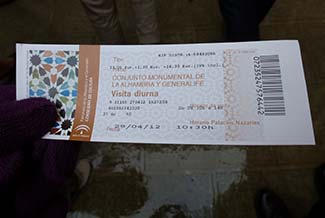 We'd agreed to sample a handful of Silversea's shore excursions, so we signed up for the popular Alhambra tour, which was a nine-hour day trip from Málaga.
The Alhambra lies across a mountain range in the city of Granada, requiring an 80-mile or 129-km bus ride. Fortunately, Silversea leaves plenty of empty seats on its tour buses, so the ride wasn't as grueling as we'd feared it might be.
(The photo above shows one of our tickets to the Alhambra, which we were given at the end of the bus ride.)
---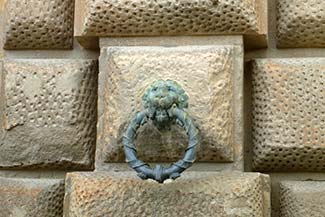 Fast-forward to the Alhambra: Our tour began in the Palacio de Carlos 5, which was built by Charles V after he married Isabella of Seville and visited the Alhambra in 1536.
---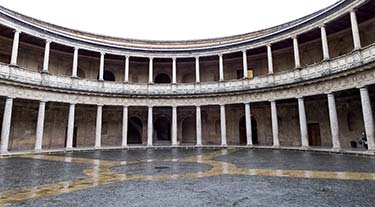 The heavy Spanish Renaissance building seems out of place in a complex of palaces and gardens with an otherwise Moorish vibe, but it does have some interesting features, such as the circular courtyard that occupies much of the square palace.
---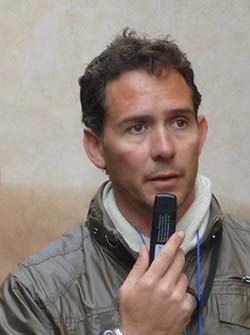 Our guide was knowledgeable, personable, and witty. He was also easy to hear, thanks to the Quietvox audio system that Silversea has begun to use on many of its shore excursions.
With the Quietvox system (dubbed "Silver Shore Sotto Voce" by Silversea), each tour participant receives a small device about the size of a candy bar and a set of earbuds that plug into a USB connector on the Quietvox.
We were skeptical about the system at first, but we quickly discovered its advantages: Thanks to Quietvox, we didn't need to huddle around the guide, and we didn't mess any of the narration if we hung back or wandered away from the group to take snapshots.

---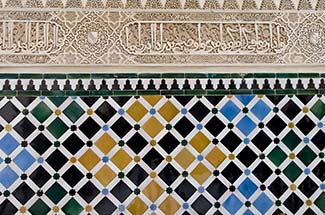 After a whirlwind visit to Charles V's Renaissance digs, we moved on to the main event: the Alhambra's Nasrid Palaces, which were built in three different periods between 1314 and 1391. The Moorish palaces (which were secular, not religious, in nature) are rich in Islamid decor and symbolism.
---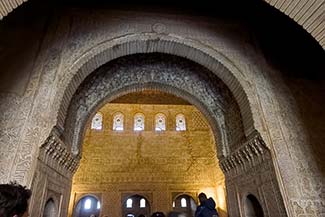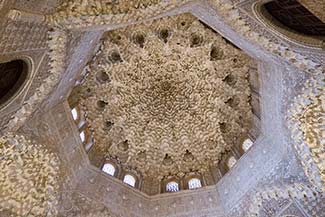 One of the more impressive sections of the Nasrid Palaces is the Hall of the Ambassadors in the Camares Palace, where the last Moorish sultans in Europe received emissaries. The architectural details are stunning, with intricate carvings, mosaic tiles, and gold leaf that must have impressed 14th Century visitors as much as they wow 21st Century tourists.
---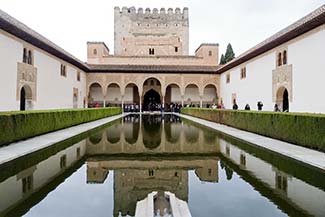 Possibly the most photographed site within the Alhambra is the Courtyard of the Myrtles, which a quasi-official guidebook (The Alhambra and Generalife in Focus) describes as "the focal point for diplomatic and political activity in The Alhambra." The use of water as a mirror to reflect a palace was imitated three centuries later by the builders of India's Taj Mahal.
---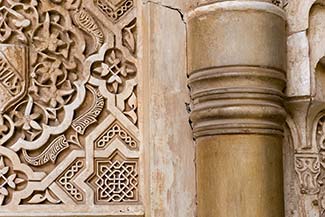 Protection against earthquakes isn't new: In the 14th Century, Moorish architects used shock-absorbing isolation pads in The Alhambra's columns to prevent tremors from toppling the palaces.
---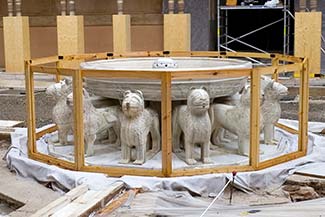 Next door, in the Palace of the Lions, the stone lions in the courtyard were undergoing restoration. Still, we were able to enjoy the view and learn about the lions, which spew water from hidden pipes when they aren't being worked on: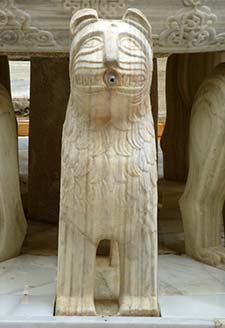 ---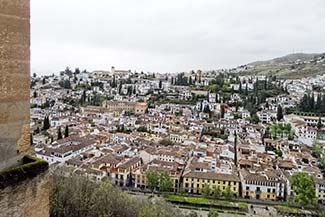 As we walked from one palace and courtyard to the next, we enjoyed a view of Granada from The Alhambra's walls. (The city is downhill and within walking distance; if you're planning a visit on your own, read Anders Imboden's Alhambra article at Europeforvisitors.com.)
---
---
---