Silver Spirit Cruise Photos
From: Silver Spirit Cruise Review
Port Mahon (3)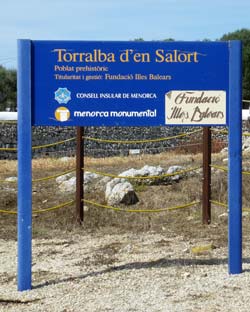 Our tour's next stop was at Torralba d'en Salort, which is said to be the best example of Talyotic culture on Menorca. The prehistoric village, which wasn't excavated until the 1970s, was inhabited between 2, 000 and 3,000 years ago. (Its one of about 2,000 known prehistoric sites on the island.)
---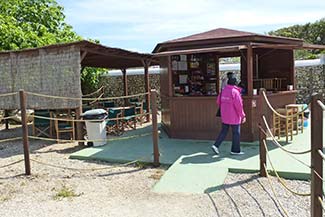 The historic site has a pleasantly low-key atmosphere. During our visit, the ticket booth and refreshment stand were operated by a mother and her small daughter.
---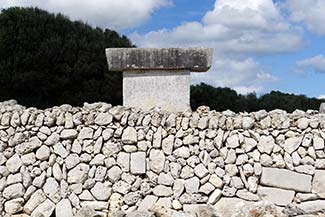 Behind the drystone wall that surrounds the excavations, Menorca's best-preserved taula looms over the site. The stone column holds a large slab, resulting in a structure that is nearly 5 meters or more than 16 feet high.
---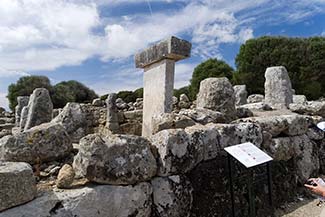 Archaeologists believe the taulas on Menorca were used for religious purposes. (An altar, religious figurines, and similar items have been found in the old fire pits around the taula in this photo.)
---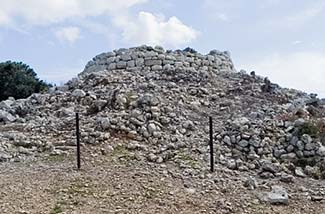 The ruined village of Torralba d'en Salort also has several buildings and other structures, including a house, silos, and tombs.

---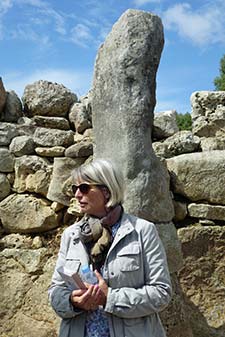 Evidence suggests that Talyotic people worshipped stone Popsicles. (That's our uneducated guess--not the opinion of our excellent tour guide. Our guide, Anne Marie Espinasse, is a Londoner who came to Menorca for a travel job 28 years ago and married a local man. Click here to hear several of her podcasts about Menorca.)
---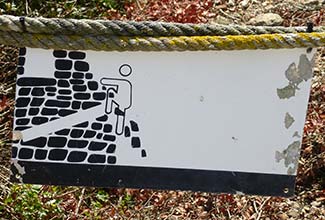 Our attention to prehistory was diverted by this warning sign, which cautioned against climbing the ancient buildings.
---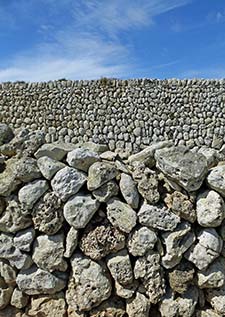 On our way out of Torralba d'en Salort, we admired the workmanship that went into the traditional Menorcan drystone walls around the excavated village. (As you drive, bike, or walk around Menorca, you'll see two basic types of drystone walls: walls with loose stones on top, like this one, and walls with a layer of whitewashed cement on top to keep the stones in place.)
---
This photo shows a drystone wall with whitewashed cement on top. The gates are made of olive wood. (Wild olive trees are common on Menorca, and their limbs are used for gates and cattle enclosures because the wood resists rotting in the island's high humidity.)
According to Visitbelears.com, there are an estimated 70,000 km or 44,000 miles of drystone walls on Menorca.
---
---
---
---