Silversea's officers are European, and most of the captains are Italian. Other staff come from a variety of countries: Our butler was from India,  but we also met service employees from South America, the Philippines, and elsewhere.

Silver Spirit has 376 crew members for 540 guests, which works out to about one crew member for every 1.4 guests. (In contrast, Royal Caribbean's Oasis of the Seas--a mass-market megaship--has one crew member for every 2.9 guests at full capacity.)
Silver Spirit's favorable passenger-to-crew ratio translates into a high standard of service: Sit down in a lounge or by the pool when the bar is open, and a waiter will arrive almost instantly. What's more, the waiter won't be trying to sell you a drink and you won't need to sign a chit, because your Champagne, Martini, or San Pellegrino and the accompanying bowl of nuts are included in the fare.

Earlier in this article, we mentioned Silver Spirit's butlers. Each suite has a butler and a room attendant (the latter being the equivalent of a traditional room steward or stewardess). The butler makes your dinner reservations in the ship's specialty restaurants, makes sure that your refrigerator is stocked with your preferred drinks, takes care of laundry and dry cleaning, and accommodates other requests. If you wish, the butler will unpack your clothes and repack your bags at the end of the voyage.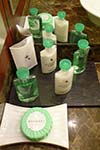 Shortly after embarkation, your butler will offer you a bottle of chilled Champagne or Prosecco, a choice of pillows, and your preferred selection of toiletries: Bulgari, Neutrogena, or another European brand. If you have any special dietary needs, tell your butler, and he or she will alert the chef and maître d'.
Note: If--like us--you're a low-maintenance guest, the butler will keep out of your way. But if you need anything, just ask. (Our butler and room attendant, Charan Pasad and Noriel Balean Amaranto,  provided excellent service without being intrusive or fawning.)
Tipping
Silversea advertises that "All onboard gratuities are included--none are ever expected." They aren't kidding: There's no need to tip, whether at the bar, to room-service waiters, or at the end of the cruise.

Still, if you're feeling flush and you want to show gratitude for exceptional service, we'd suggest making a donation to the Crew Welfare Fund at the reception desk. Such donations benefit the entire crew--such as the sailors who swab the decks, the galley staff, workers in the laundry, and the crew who sort through garbage in the ship's recycling center.