ABOVE: A gilded service plate at La Terrazza.
Today's "port-intensive" cruises may focus on destinations and shore experiences, but that doesn't mean food has been de-emphasized. If anything, the opposite is true. Even mass-market lines such as Carnival, Royal Caribbean, MSC, and Costa have upgraded their culinary offerings in recent years, and customers who have enjoyed a surfeit of choices on megaships expect a luxury vessel to offer more than a single dining room (no matter how good it may be).
On Silver Spirit, Silversea has risen to the "choices" challenge with half a dozen dining venues:

The Restaurant is the elegant main dining room, located on Deck 4. It offers "open seating" (no assigned tables), which means you simply walk up to the maître d' and request what you want: a table for two, seating for your entourage, or--if you're reasonably social--a table with strangers. The Restaurant is open for breakfast, lunch, and dinner, and you can arrive whenever you wish during meal hours. (During our voyage, The Restaurant's hours were 8 to 9:30 a.m., 12 to 1:30 p.m., and 7 to 9:30 p.m.)

The Restaurant's menu scheme is a bit confusing at first, but it makes sense once you get used to it: The left side lists "always available" items such as steaks and side dishes, while the right side changes daily. Portions tend to be small, with more emphasis on presentation than on filling your belly, so don't be shy about ordering a side of potatoes or vegetables to go with your duck breast or sea bream.
Tip: In addition to its a la carte dinner menu, The Restaurant often has a family-style meal (for two or more guests) that features Indian, Thai, or another cuisine. Look for the day's "for the table" option at the bottom of the printed menu's right-hand page.

La Terrazza, on Deck 7, has a multiple personality: Breakfast and lunch are served buffet-style (with the serving stations in an adjacent room), while afternoon tea, sandwiches, and cakes are served by waiters. At night, La Terrazza becomes an excellent Italian-themed restaurant (dinner reservations required, but no surcharge).

During the day, you can eat inside La Terrazza or outdoors on a terrace behind the restaurant. We had breakfast outdoors every day except one, and we were surprised by how few passengers were willing to venture outside unless the temperatures were tropical.
Note: On Silversea, "buffet-style" doesn't mean "cafeteria-style." As you exit the buffet area, a waiter or waitress normally will take your plate and carry it to your indoor or outdoor table. If you want a made-to-order item such as an omelette, just ask for it, and it will be cooked and brought to you.

The Grill (more commonly nicknamed "Hot Rocks") is outdoors on Deck 10, overlooking the pool. Your meal begins with a plate of homemade tortilla chips and salsas, followed by your choice of a Caesar, New York (bleu cheese), or green salad.

Main courses include steaks, chops, fish, and prawns, which are brought to the table on wooden serving trays that hold a baked potato, a skewer with peppers and other vegetables, and a slab of black volcanic rock that has been heated to 700 degrees F. or 370 degrees C. The meat or fish is already on the rock and sizzling when it arrives; your job is to decide when it's ready to eat. (Your waiter will help you if your cooking skills are limited to saying "Garçon!")

At the end of the meal, you're offered several dessert choices, such as an individual deep-dish apple pie with ice cream or a dark-and-white-chocolate mousse. The whole experience is gimmicky but fun, and we dined at The Grill twice (once on a chilly and rainy evening, with an overhead canopy, electric heaters, blankets, and our sizzling hot rocks to keep us dry and warm).

Le Champagne is a small, reservations-only, extra-cost restaurant under the direction of Relais & Châteaux. If you consider yourself a gastronome (or if you'd like other people to think you're a gastronome), ask your butler to reserve a table for you.

Seishin is an "Asian degustation" restaurant, with an emphasis on Japanese cuisine. Like Le Champagne, it requires a dinner reservation and payment of a surcharge (US $30 per person during our cruise).

Stars is a "supper club" that begins the evening as a restaurant and morphs into a jazz nightclub around 9 p.m. The menu is divided into five "tapas-style" courses, with a total of about 15 items that range from foie gras to lobster. (Think of a Whitman's Sampler with savories instead of candies.) Reservations are recommended, but there's no surcharge.

The Pool Grill is open for lunch from 12 to 4 p.m. each day, with tables next to the pool on Deck 9 and overlooking the pool (where The Grill operates at night) on Deck 10. The extensive menu ranges from snackbar-style hot dogs and burgers with fries to healthier fare such as grilled salmon. A waiter will take your order and bring the food to your table, and a server from the Pool Bar will bring you anything from soda to Champagne.

If your tastes run to room service, Silver Spirit has you covered: You can order from a large room-service menu at any hour of the day or night, and lunch or dinner from The Restaurant can be served course by course in your suite during meal hours. (We used room service once during our voyage, when we enjoyed excellent pizzas and chocolate mousse on our veranda.)

During most cruises, Silver Spirit serves the traditional Silversea Pool Barbecue one evening (weather permitting), with long tables set up on the pool deck and a menu that includes roast suckling pig and other delicacies. Longer voyages may include a Galley Brunch, an elaborate buffet served in the ship's spotless kitchens.
Bars and lounges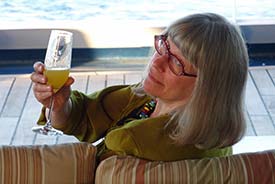 Like any cruise ship, Silver Spirit has plenty of bars and lounges where you can get a drink, relax, or chat with other people. Unlike most ships, however, Silver Spirit doesn't charge for your glass of gin, Champagne, or chardonnay: Beverages are included in the fare (whether at bars, at meals, or in your suite), with the exception of "connoisseur's list" wines, vintage ports, and other super-premium drinks.
The ship's saloons include:

The Bar, a stylish cocktail lounge next to Reception on Deck 5. It's open in the mornings and again from before dinner until the last passenger has gone to bed.
The Pool Bar, which was open from 9 a.m. until 8 p.m. during our voyage. (You can perch on a stool at the bar, sit at a table, or be served tropical drinks in your deck chair.)

The Panorama Lounge, aft on Deck 9, which has an outdoor annex with sofas and upholstered chairs overlooking the stern. At night, the DJ and dance floor attract a lively crowd.

The Observation Lounge on Deck 11. A full-service bar is open in the evening. During the day, you can pour your own coffee or grab a soft drink from the counter before settling back to enjoy the same view that the ship's officers are seeing from the bridge (which is directly beneath the lounge).
Stars, which is both a supper club and late-night jazz club. See description above under "Dining."

Connoisseur's Corner, a lounge for cigar-and-brandy aficionados on Deck 8 that has the decor and vibe of a British men's club. (During the daytime, when nobody is around, the Connoisseur's Corner smells as clean and smoke-free as an operating room.)