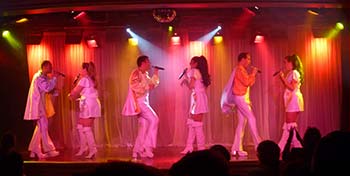 ABOVE: The Artists of Silversea perform in the Show Lounge.
Entertainment on Silver Spirit
Megaships that carry thousands of passengers may offer Broadway-style theatrical productions, ice shows, and circus performances, but Silversea's fleet--including Silver Spirit--offers a more intimate style of entertainment that focuses on popular music, jazz, and even a soupçon of opera.

On most evenings, the Show Lounge (Silver Spirit's comfortable theatre) features an after-dinner show by a group of vocalists called The Artists of Silversea. Shows on our cruise ranged from "It's Fabbalicious!" (an ABBA retrospective) to "Hi C's" (operatic blasts from the past). The performers--who were supplied by Suzanne Childers of Choozi Entertainment--included James Francis, Justin Reynolds, Jason McClain, Dawn Royston, Dian Meechai, and Devon Yates.

We were genuinely impressed by the vocal range and talent of the performers. (Example: James Francis, the young man in the photo at left, was able to impersonate Elton John or sing an impressive aria.) As a bonus, the singers mingled with the passengers and struck us as being genuinely nice people.

Additional entertainment venues on Silver Spirit are The Bar (with a singing pianist and a dance trio), the Stars Supper Club, the Panorama Lounge, and even the Pool area, where--during our voyage--a talented young singer named Michelle Yap performed for diners at The Grill with Sonny on the synthesizer.
After 11 p.m. or so, a DJ plays pop hits in the Panorama Lounge. The atmosphere is a cross between a high-school reunion and a wedding reception, minus the gym decorations and the chicken song. And when was the last time you saw a woman in a tailored silk dress and Ferragamo heels twist like Chubby Checker?
Other forms of entertainment during our voyage included an occasional "big-screen movie," complete with popcorn, in the Show Lounge and in-suite films on TV (free for G- through R-rated pictures, but with a charge for what your grandfather might have called "blue movies").