Silver Spirit Cruise Photos
From: Silver Spirit Cruise Review
Text by Durant Imboden
Most photos by Cheryl Imboden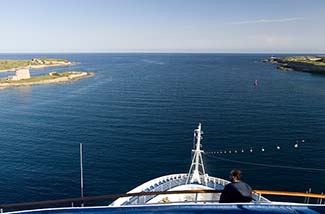 ABOVE: Silver Spirit leaves the deepwater harbor of Port Mahon, Menora.
This day-by-day photo diary contains several hundred photos from a 9-night cruise between Lisbon and Monte Carlo on Silver Spirit, the 540-passenger flagship of Silversea Cruises. Its subject matter and tone are more blog-like than in our 10-page Silver Spirit cruise review: This photo diary is about our personal experiences on Silver Spirit (and in the ports of call) during a specific voyage.
All photos are captioned. We've also included a day-by-day index at the bottom of each page, so you can easily locate photos of the ports or topics that interest you.
Please note:
Each page has multiple photos with captions (typically half a dozen or more), so you won't need to click hundreds of times or sit through an automated slide show.

To get started, click here.