Silversea's cabins are called "suites," because even the least expensive rooms are divided into separate sleeping and sitting areas. Silversea claims that 95 percent of the suites have verandas, which range in size from 65 square feet (6 m²) to 702 square feet (65 m²).
The smallest balconies have room for two reclining wicker deck chairs and a table big enough to hold a breakfast or lunch tray, while the largest are nearly the size of a badminton court.

The most elaborate suites are the two Owner's Suites (located amidships), the four Grand Suites, and the two Royal Suites. Grand and Royal Suites are forward, overlooking the bow, and--like Owner's Suites--they can be reserved in one- or two-bedroom configurations. All of these suites are huge, and they're especially suited to wealthy passengers who like to entertain.

Silver Suites are extremely popular with guests who are looking for a balance between extravagance and (relatively speaking) economy. These suites, which are located on Decks 10 and 11, are nearly double the size of a standard Veranda Suite, with much larger terraces, greater separation between the sleeping and sitting areas, and dining tables with chairs.
Tip: When booking a Silver Suite, try to get one on Deck 11, where you'll be only a few steps from the spacious, quiet, and underused Observation Lounge above the bridge.

Veranda Suites (including Midship Veranda Suites) measure a generous 376 square feet or 35 m² in size, including a 118-sq. ft. (11 m²) balcony.

Each Veranda Suite has an archway with a curtain divider between the sleeping and sitting area, a big walk-in closet with a chest of drawers, a desk, a make-up table, two flat-screen TVs (both concealed behind mirrors), and a large marble-lined bathroom with a separate shower and bathtub. Eight connecting Veranda Suite pairs are available, and four Veranda Suites are handicapped-accessible.

The least expensive cabins are Vista Suites, which essentially are Veranda Suites without verandas. Instead of a sliding glass door, each Vista Suite has a large window with a view of the sea.  (Vista Suites are an especially good choice if you're traveling with small children.)

Suites in all categories have minibars that are stocked with free soft drinks, beer, wine, mineral water, or other beverages. (Tell your butler what you want, and your supply of drinks will be replenished throughout the cruise.)

Fruit bowls, flower arrangements, a "pillow menu," and a choice of upscale bathroom amenities are part of the service, too. If you stay in the higher-priced suite categories, you'll also be entitled to free laundry, dry cleaning, and other perks.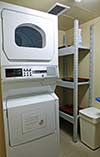 Speaking of laundry, Silver Spirit has complimentary laundromats. (Detergent is in a bucket, and you'll find an iron and ironing board for last-minute pressing.)
We're also happy to report that Silver Spirit's bathrooms are perfect for drip-dry clothes, thanks to retractable clotheslines and multi-rung horizontal towel racks over the bathtubs. Don't let yourself be thrown by the bathroom sink's stopper: Instead of opening and closing it with a lever, you press directly on the spring-loaded stopper until it locks or releases.