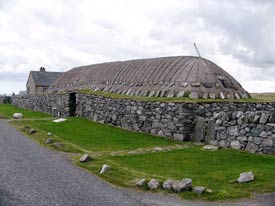 ABOVE: Our favorite shore excursion may have been a tour in the Outer Hebrides, where our guide, Chris Ryan (see inset photo), introduced us to a traditional "blackhouse" and several prehistoric sites.
Shore excursions
Tours are a fixture of port-intensive cruising, and Silversea makes it easy for passengers to visit major tourist attractions without feeling like they're on a class trip.

In most ports, the Silver Whisper offers several optional tours. On our cruise, for example, the shore excursions included city walking tours, an evening at the Military Tattoo in Edinburgh, the Tain Highland Gathering near the Scottish port of Invergordon, and an all-day trip to Brussels from Zeebrugge, Belgium. We took several tours, and all of the guides were excellent. (We were especially impressed by Chris Ryan, who guided our Isle of Lewis tour from Stornoway and owns Out and About Tours.)
To make tours more enjoyable, Silversea keeps tour groups small (about 20 people, or half a busload) and provides escorts from the ship who bring supplies of free bottled water and first-aid kits.
The tour desk can also arrange for private excursions, and--unlike some ships' tour offices--it gives advice, maps, language "cheat sheets," and other materials to guests who prefer independent sightseeing.
Best of all, the Silver Whisper and other Silversea vessels offer free shuttle buses whenever the ship isn't within easy walking distance of the city center. These buses typically run at least once an hour in both directions, even when the port is a fair distance from the ship (as it was in Edinburgh, which was a 30- to 45-minute trip by road).
Next page: Service
---
---
---
---
---