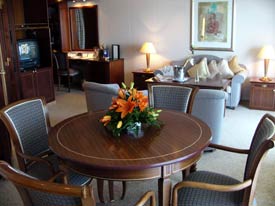 ABOVE: Living room of Silver Suite 729, with dining table in the foreground. INSET BELOW: Zuzana, our stewardess.
Staterooms
Silversea refers to its cabins as "suites," and not without cause: Even the smallest accommodations on the Silver Whisper are the shipboard equivalents of junior suites in a hotel, with an arch and curtains providing visual separation of the sleeping and sitting areas.

More than 80 percent of the Silver Whisper's staterooms have balconies. The most popular cabins are Veranda Suites, which comprise 128 of the vessel's 194 suites and offer 345 square feet of interior and balcony space. Vista Suites (the least expensive cabins aboard the Silver Whisper) are identical except for having picture windows instead of balconies. Bargain-hunters can opt for one of the nine Vista Suites that open onto a little-trafficked stretch of deck near the lifeboats. Two of the latter are oversized and specially equipped for handicapped guests. (By the way, there's no such thing as a bad cabin on the Silver Whisper--all staterooms overlook the sea, and none has an obstructed view.)
Two Medallion Suites offer slightly more space than the standard Veranda Suites. The 13 Silver Suites may be the most attractive accommodations on board. Each has 701 square feet of space and an angled glassed-in bedroom that faces the living/dining room with its two sets of sliding glass doors. At the high end of the scale are the Grand, Royal, and Owner's Suites, which range from 1,208 to 1,435 square feet and are available in one- or two-bedroom configurations.
All suites, regardless of price, have such amenities as dressing rooms, multi-sink marble bathrooms with separate showers and tubs, refrigerators, and bars or liquor cabinets. There's no charge for drinks, caviar, 24-hour room service, or the fresh fruit that is replenished daily.
A note about housekeeping: Our stewardess, Zuzana Schwarzbacherova of Slovakia, and her assistant, Cecilia Tijo from the Philippines, kept our quarters spotless and sparkling throughout the 10-day cruise. They never intruded on our privacy, yet they were quick to service our suite when we went to breakfast or dinner. They even remembered our preference in chocolates when they left treats on the turned-down bed each night.
Next page: Silver Whisper dining
---
---
---
---
---