Touring Europe by Ship:
Silver Whisper Mediterranean Cruise
Continued from page 9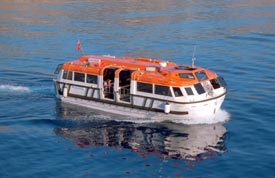 ABOVE: A tender shuttles passengers from the anchored Silver Whisper to the waterfront in Monemvasia, Greece.
Web links
Silversea Web site
Silversea Cruises
The cruise line provides a sailing calendar, itineraries, deck plans, fares, and other information to help you book or fantasize a luxury cruise.
General Information
Silver Whisper Photos 2002 europeforvisitors.com
View 61 ship photos, with captions that describe the Silver Whisper and the Silversea cruise experience in detail.
Silversea Cruises: "Scotland's Tattoo" europeforvisitors.com
This sequel to our Mediterranean cruise article takes the Silver Whisper (and you) from Copenhagen to London Tilbury by way of Scotland, Northern Ireland, the Channel Islands, and Belgium. It includes 65 new Silversea pictures.
Tour Europe by Ship europeforvisitors.com
If you want the convenience of an escorted tour without the agonies of bus travel, daily hotel check-ins, and constant packing, try a "port-intensive" cruise instead.
Ship reviews and photos
Cruise Diva: Silver Whisper
Linda Coffman's cruise diary gives a day-by-day account of a 2002 voyage from Istanbul to Genoa on the Silver Whisper.
Cruise Ship Profile: Silversea Silver Whisper
Linda Garrison describes a 2002 cruise from Barcelona to Lisbon at cruises.about.com. Her report includes a photo gallery.
---
---
---