Tournon sur Rhône
From: Viking River Cruises: Southern France cruise review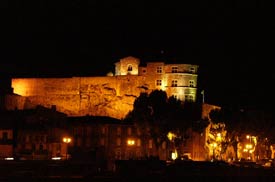 MS Maribelle departed from Vienne at lunchtime, passing through several locks at power stations along the Rhône before arriving at Tournon sur Rhône in early evening.
Tournon's main attraction is a a feudal castle that's built into a rock overlooking the town and the river. The castle, whose foundations date back to the 10th Century, has a section built in the Renaissance that houses the town museum. (One room in the museum is devoted to Marc Seguin, a local engineer who built the first suspension bridge across the Rhône and invented the tubular boiler for steam locomotives.)
Other sights in Tournon sur Rhône include the Collegiate Church of Saint-Julien and the Lycée Gabriel-Fauré, a school that was founded in 1536 by the Cardinal of Tournon and which claims to be the oldest lycée in France.
Tain l'Hermitage:
Many of the MS Maribelle's passengers were more interested in shopping than sightseeing, so they followed the advice of hotel manager Chris Hillebrand and crossed the Passerrele Marc Seguin footbridge to Tain l'Hermitage, a modern town with a popular outlet store at the Valrhona chocolate factory and several wine merchants that offer tastings of Côtes de Rhône wines from the Hermitage vineyards.
Tip: The Valrhona store is tiny, and it can be unbearably crowded when passengers from a cruise vessel arrive en masse. To minimize your misery, give other shoppers a chance to clear out, and be sure to take a number from the machine near the door.
Tournon sur Rhône is a gateway to the Ardèche and the Doux Valley, which can be reached by road or via an excursion on the Vivarais Railroad (which is described on the next page).
Next page: Vivarais Railroad
---
---
---
---