Vienne
From: Viking River Cruises: Southern France cruise review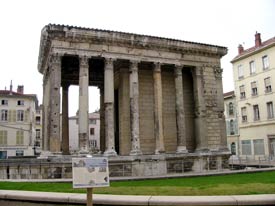 ABOVE: The Augustus and Livia Temple is one of several well-preserved Roman ruins in Vienne.
MS Maribelle sailed from Lyon at 6 a.m. on Tuesday, arriving in Vienne at 9 a.m. for a 3½-hour visit.
Passengers were divided into several groups and taken on walking tours of Vienne, an attractive city of 30,000 that was founded in the 3rd Century B.C. The town became a Roman colony around 40 A.D., and several structures from that era have survived: The Augustus and Livia Temple (see photo above), a section of Roman road near the waterfront, and a Roman Theatre that has room for 13,000 spectators. The 2,000-year-old amphitheatre, which overlooks the town and the River Rhône, is the main venue for the Vienne Jazz Festival, which has grown into one of Europe's largest jazz events since its founding in 1981.
After the walking tour, passengers had the option of taking a rubber-tired "minitrain" around the city. Unfortunately, there wasn't time to tour Vienne's other attractions, which include a Museum of Fine Arts and Archæology, the Archæological Garden of Cybele, the Cathedral of Saint-Maurice, and several other churches and museums.
For more information on Vienne, which was both an important Roman town and the one-time capital of Burgundy, see:
Cruise Photos: Vienne europeforvisitors.com
Next page: Tournon sur Rhône
---
---
---
---