MS Maribelle: Audience and ambience
From: Viking River Cruises review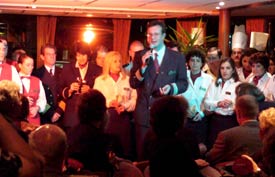 ABOVE: Hotel Manager Christian Hillebrand introduces MS Maribelle's crew to passengers in the Lounge.
Our fellow passengers on the MS Maribelle were primarily middle-aged and older, with a small number in their 30s and 40s. Two or three were in their 20s or younger. My 17-year-old son got a lot of attention from the older passengers, who seemed to enjoy the novelty of having a young person on board.
The passengers were mostly from the United States and Canada, with a couple of British ladies to add variety. Married couples predominated, but there were at least two mother-daughter pairs, and we made the acquaintance of four women from New York who were traveling together. (We especially enjoyed the time we spent with Gaylen Lewis, a retired history professor from Bakersfield College, and his lovely and articulate wife Susan.)
The ambience on the MS Maribelle could best be described as "cruise ship meets group tour." Because river vessels are small, with an average of 100 to 150 passengers, there's a tendency for guests to have at least a nodding acquaintance with each other--and because shore excursions are an integral part of the cruise experience, passengers spend at least some time together in each port of call. As someone who's used to independent travel, I occasionally felt that I'd been shanghaied into a class trip, but everyone on the MS Maribelle was so friendly and jolly that my introversion went into remission during the trip.
Another descriptive phrase would be "low-key." Dress was mostly casual, the passengers were free of snobbery or affectation, entertainment consisted of a one-man orchestra and occasional local guest performers, and there was a friendly rapport between the passengers and the European crew. The MS Maribelle had no climbing walls, swimming pool, golf cage, or casino. Besides the shore excursions, the most exciting event each day was ducking on the Sun Deck to avoid low bridges or taking pictures as the ship traversed the many big locks on our journey down the Saône and Rhône rivers.
Next page: MS Maribelle dining
---
---
---
---