MS Maribelle: The Ship
From: Viking River Cruises review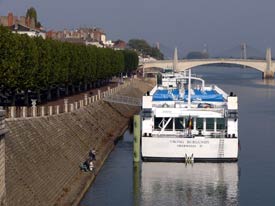 ABOVE: Another view of MS Maribelle in Chalon-sur-Saône, where the ship was moored along the downtown waterfront.
Anders and I caught our first glimpse of the Viking Burgundy, as MS Maribelle was then called, when the cruise line's transfer bus arrived in Chalon-sur-Saône after a 90-minute drive from Lyon Saint-Exupéry Airport. The ship was moored at the river's edge in the town center, and the boarding process was simple: We just crossed the short gangway, identified ourselves at the reception desk, and picked up our magnetic room keys.
A different kind of ship
The MS Maribelle is smaller and more intimate than an oceangoing ship. The hull and superstructure are combined into a long, low, narrow box-shaped vessel with a streamlined bow. The ship has just three enclosed decks, plus a sundeck with a wheelhouse that can be lowered hydraulically to fit under low bridges.
All of the MS Maribelle's public rooms are on the Upper Deck. As you step off the gangway, you enter a spacious reception area with a desk and self-serve beverage area where you can get ice water, coffee, and other beverages such as ice tea or fruit juice throughout the day.
Turn toward the bow, and you'll see a tiny shop with Viking River Cruises logo wear and a variety of gift items.
On the other side of the reception area, a left turn will lead you into a small library with comfortable seating, a modest selection of books, and a rack filled with up-to-date magazines and English-language newspapers such as the International Herald Tribune, The Times, and The Wall Street Journal Europe.
Go through the shop or the library, and you'll find yourself in the lounge. This is a large room with floor-to-ceiling windows, a bar, a small musicians' area and dance floor, and plenty of tables with upholstered chairs. (The lounge is used for the cruise manager's announcements and port talks, afternoon tea, nighttime entertainment by a one-man orchestra or guest performers, watching the sights when the ship is cruising, and the occasional catnap.)
On the other side of the reception area, steps lead to the passenger accommodations. Follow the corridor past the Upper Deck cabins, and you'll arrive at the restaurant, an attractively furnished room in the ship's stern that has open seating at tables for four, six, and eight guests.
Other public areas include the Sun Deck (with lounge chairs and a handful of tables) plus a sheltered open-air promenade deck that wraps around the forward third of the ship on the Upper Deck. Smoking is permitted only on the Sun Deck and the Upper Deck's open-air promenade deck.
Next page: MS Maribelle staterooms
---
---
---
---