MS Maribelle: Staterooms
From: Viking River Cruises review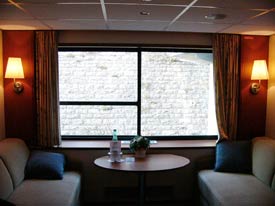 ABOVE: A Category B stateroom on the MS Maribelle. (The view was considerably better when the ship was moving.)
The MS Maribelle has two types of cabins:
Deluxe cabins, which have an area of 151 square feet. These staterooms are on the Upper and Middle Decks. The Upper Deck or Category A cabins have a slightly better view when the ship is in port, but the Middle Deck or Category B cabins are closer to the water (which can be fun while cruising) and aren't subject to foosteps and other noise from the Sun Deck.
In Deluxe Cabins, the twin berths are located on opposite walls and convert into sofas during the day. Windows are large, with sliding panels that can be opened for fresh air and picture-taking.
Standard cabins, with an area of 120 square feet. Category C cabins are on the Middle Deck and have fairly large sealed windows, while Category D cabins are on the Main Deck with half-height windows just above the waterline. In standard cabins, one berth is a pullman bed, while the other converts to a sofa during the day.
All cabins are air-conditioned. Bathrooms are equipped with modern vacuum toilets, one-piece sink/counter units, and narrow triangular shower stalls. Closet and drawer space is modest but adequate. A hairdryer is provided for the 240-volt European outlets, and you can store small valuables in an electronic safe.
MS Maribelle's cabins are attractively furnished in a warm and inviting modern style. Their twin berths are ideal for friends and other travelers who prefer to sleep without snuggling. Honeymooners and longtime cuddlers will miss the option of a double bed, although there's much to be said for being able to use the cabin as a daytime living room with sofas.
Next page: Audience and ambience
---
---
---
---