Vivarais Railroad
From: Viking River Cruises: Southern France cruise review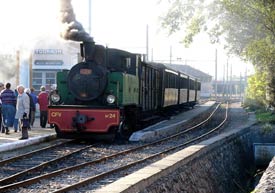 ABOVE: A coal-burning locomotive of the Vivarais Railway prepares to depart the SNCF station in Tournon, France.
The Chemin de Fer du Vivarais, or Vivarais Railroad, is a meter-gauge railway that was built in 1891. The line was closed in 1968, but a year later it was reopened as a tourist attraction by a group of French railway enthusiasts. (The line shut down again in 2008 for financial reasons but later acquired enough funding to resume service in June, 2013.)
After spending the night in Tournon aboard the MS Maribelle, we were bused to the Tournon SNCF station for the train ride. The morning was cold, and the only person aboard the train who wasn't freezing was the fireman who shoveled a ton of coal into the firebox over the next hour.
An independent journey on the CFTM's steam train is an all-day affair. The train departs Tournon at 10 a.m., arrives at the terminus in the Ardèche town of Lamastre at noon, and returns at 4 p.m. for arrival back in Tournon just before 6 p.m. MS Maribelle's excursion was shorter, with passengers being dropped off at a high bridge in the mountains for a snack of wine and quiche before returning to the ship by bus.
Next page: Viviers
---
---
---
---