Wind Surf Cruise Review
Page 6
Continued from page 5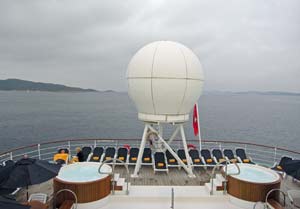 Other amenities
Recreation and fitness
The Wind Surf has a Pool and two Hot Tubs on the Main Deck, with a bar and plenty of deck chairs for sipping and sunbathing. On many itineraries, the ship reaches port in the morning and sails in the afternoon, so you'll have time to relax by the pool after the day's sightseeing.
The Fitness Center, high up on Star Deck, has the usual assortment of treadmills, weight machines, free weights, and other exercise equipment. If you arrive early or late in the day, you might encounter the ship's officers or cruise staff lifting weights or jogging. Nearby is the Aqua Fit Pool, where you can swim laps. An exercise room for yoga, dance, etc. is also available and was empty whenever I looked in.
In the stern of the ship, the Watersports Platform on Deck 2 is a launchpad for sea kayaks, JetSkis, scuba diving, etc. This is used mostly in the Caribbean, since Mediterranean ports often have regulations that limit such activities.
Spa
The Wind Spa offers a full complement of massages, body treatments, facials, and beauty-salon services. My wife wasn't along on the cruise, and I prefer Calvinist self-denial to body wraps, so I can't provide details on what goes on in the treatment rooms.
Internet and computers
An Internet Center on the Bridge Deck has eight flat-screen PCs with Internet access via satellite. After you've registered with your cruise ID card, you can pay by the minute or buy a discounted package. During my cruise, rates ranged from a flat 75 cents per minute to 40 cents a minute with a 250-minute package. The same rates apply to Wi-Fi Internet service in public rooms and cabins. (You can rent a laptop if you didn't bring your own.)
Access speed is typical of a cruise ship's satellite connection (don't expect true broadband), and so is reliability: The system was down for the last 36 hours of my cruise, although it worked fine the rest of the time.
You'll also find several PCs without Internet access in the Library. These are handy for writing documents or playing Solitaire.
Shopping
On Mediterranean itineraries, you're likely to do most of your shopping on shore, but the Wind Surf's Signature Shop is a handy place to buy Windstar Cruises logowear, duty-free goods, and items of clothing that you might have forgotten. It also has toiletries and other necessities. (When my digital camera died halfway through the cruise, the shop came to my rescue with single-use Kodak film cameras.)
Sanitation and medical care
Noroviruses, which cause outbreaks of gastrointestinal illness, have become a concern in the cruise industry. On the theory that a gram of prevention is worth a kilogram of cure, the Wind Surf has placed dispensers of hand-sanitizing solution at the gangway and wherever food is served. These are easy to use: Just hold your palm underneath the globe-shaped dispenser, wait for the tiny squirt, and rub your hands together. (On my cruise, Captain Mark Boylin said: "The Wind Surf has been virus-free, and we want to keep it that way.")
If illness or an accident should intrude on your cruise, there's no need to panic: Wind Surf has an infirmary and a doctor on board, and if you can't get cured on the ship, you can be stabilized and evacuated to the nearest hospital. (In the Mediterranean, the Wind Surf is seldom far from a port.)
Next page: Shore excursions
---
---
---
---