Wind Surf Cruise Review
Page 9
Continued from page 8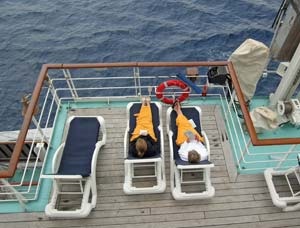 ABOVE: The Wind Surf's generous open deck space makes it easy to find peace and fresh air without paying for a balcony.
Is Windstar for you?
---
Windstar is for you if...
Windstar isn't for you if...
You've dreamed of crossing the ocean on a sailing yacht.
You've dreamed of crossing the ocean on a supertanker.
(Men only)
Your fashion guru is Eddie Bauer.

Your fashion guru is the Emperor Penguin.
(Women only)
Your hairstyle preference is "low upkeep."

Your hairstyle preference is "high updo."
You enjoy small, romantic nightclubs.
You enjoy big, crowded Las Vegas showrooms.
You're intrigued by a port named "Porquerolles."
You can't imagine why a port would be named after a meat product.
Your idea of a bridge is one you can visit during a cruise.
Your idea of a bridge is the Verrazzano at rush hour.
You love playing footsie with your sweetie.
You love rubbing elbows with strangers.
At midnight you're on deck, inhaling the sea air.
At midnight you're in the lounge, inhaling the buffet.
---
But seriously, folks:
Windstar Cruises isn't your grandfather's cruise line. It caters to a younger, more active crowd than many of its competitors do--including a fair number of honeymooners.
On my cruise, passengers ranged in age from the 20s to the 70s, as far as I could tell, with most guests being in their late 50s and 60s. Your grandfather would certainly be welcome on the Wind Surf--even if he were old enough to be my grandfather--but he might have trouble meeting fellow veterans of the Civilian Conservation Corps.
Atmosphere is another point of difference between Windstar and the mainstream cruise lines. There are no formal nights in the Restaurant, but there aren't any hairy-chest contests by the Pool, either. Windstar has the feeling of a casual, non-exclusive yacht club: Nobody's a slob, but nobody's trying to upstage the Joneses. Most people are just enjoying the sea, taking advantage of the ship's amenities, hanging out with other passengers, and having a good time.
Bottom line: If you're looking for a relaxed cruise with a true maritime flavor, or if you prefer a style of yachting that offers modern comforts without claustrophobia, Windstar Cruises and the Wind Surf may be right for you.
Next page: Web links
---
---
---
---