Marseille
From: Wind Surf Cruise Review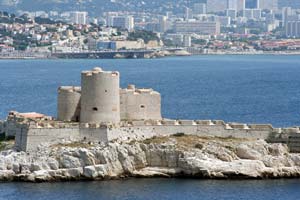 ABOVE: The Château d'If with Marseille behind. (Alexandre Dumas used the 16th Century fortress as a setting in The Count of Monte Cristo.)
Marseille was the embarkation port for my Wind Surf cruise. The ship was moored at one of several "modular terminals" in the port, and with its distinctive five masts, it was easy to see from the approach road.
Embarkation was easy: As my fellow passengers and I arrived on the pier, dockworkers took our luggage and loaded it onto the ship's conveyor belt. By the time we'd dealt with the embarkation formalities and been escorted to our cabins by stewards, our bags were ready for unpacking.
Marseille is well worth exploring at the beginning or end of a cruise. The Marseille Tourist Office and Convention Bureau offers a database of tourist information in several languages. If you haven't the patience for form-driven searches, try the short Marseille overview at Plume-Noire.com. Other useful Web sites include the Marseille Provence Airport, the Port Autonome de Marseille, and the tourism site for Cezanne's home town of Aix-en-Provence in the hills above Marseille.
Next page: Porquerolles, France
---
---
---
---