Rome (Civitavecchia)
From: Wind Surf Cruise Review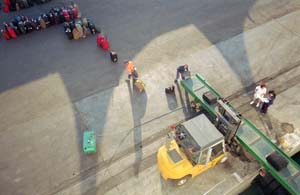 ABOVE: Civitavecchia port workers unload luggage from the Wind Surf.
---
See our 35-page guide to the Port of Rome (Civitavecchia), including:
---
Civitavecchia is the deep-water port for Rome, Italy. The city is about 1 hour 10 minutes from Rome's Termini Station by commuter train, and Leonardo da Vinci Airport at Fiumicino is 45-60 minutes from the cruise terminal by coach transfer or taxi.
On the Wind Surf's Marseille-Rome cruise, Civitavecchia was the final port. The ship arrived at 7 a.m., and passengers disembarked in groups according to their flight times. All guests were asked to leave the ship by 8:30 a.m. so the crew could get ready for the next cruise.
Civitavecchia is overshadowed by Rome, and to most cruisers, it's simply an arrival or departure port. However, the city has a long history, and it's popular with Italians as a seaside resort. It's also a gateway to other places of interest along the coast, such as the Etruscan tombs at Tarquinia and the thermal baths of La Ficonella. Ferries to Sardinia depart from Civitavecchia.
For more information, see our 35-page Civitavecchia section at Rome for Visitors.
Next page: Wind Surf photo gallery
---
---
---
---