Trapani, Sicily
From: Wind Surf Cruise Review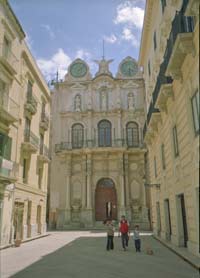 ABOVE: Three boys and a dog stroll in Trapani's historic quarter.
Trapani is a bustling port city of 80,000 people near the northwestern corner of Sicily. It's also the birthplace of Alessandro Scarlatti and the port for Marsala (home of Marsala wine), and it was a host city for the 2005 America's Cup sailboat races.

Wind Surf tied up at the maritime station in the city center, next to a row of sightseeing boats and to the Isole Egadi, or Egadi Islands, which are visible from the waterfront.
From the pier, it was easy to reach Trapani's Centro Storico or historic center: I just crossed the road, ducked into the nearest side street, and there I was.

The old town reminded me of a smaller and quieter Seville with its ancient narrow streets, wrought-iron lamps, and shuttered stuccoed buildings with courtyards.
Clothing shops dotted the Via Torrearsa and adjacent streets, with some of them selling evening gowns and other high-priced goods. Other shops catered to the young market (every female under 30 seemed to be wearing the latest style of jeans, in contrast to the surprising number of dapper-looking elderly gentlemen who sported well-cut jackets or double-breasted suits). Churches are also in abundance, but most were closed, although I did manage to visit one church that displayed the nicely dressed skeletons of two long-dead religilus personages in glass cases.

I wanted to see the Museo del Pepoli, which is housed in the 13th Century Carmelite Monastery of the Annunziata just beyond the city center. After buying a map at a newsstand, I headed east along the Via Giovanibattista Fardella until I reached the Via Conte Agostino Pepoli, where a right turn led me to the museum. Walking time was about 30 minutes.
The museum was easily worth the stroll, and the admission price was reasonable. The former monastery is attractive with its cloistered courtyard, grand staircase, and airy, high-ceilinged rooms.

Exhibits are eclectic, ranging from stone funeral tablets with Arabic inscriptions to a guillotine on a scaffold with a coffin awaiting the victim underneath. Upstairs, there are outstanding collections of painted tile floor and wall scenes, 17th and 18th Century figurines, jewelry and liturgical objects made with coral, and lovely tableaux made with corals, shells, human and animal figurines, and props such as a miniature castle.
Tip:

If you go to the museum, also visit the adjoining

Santuario dell'Annunziata

. Behind the Gothic fašade is a 14th Century church that got a Baroque refit in the 1700s, and behind that is the smaller

Capella della Madonna

, an over-the-top 16th Century chapel with a marble statue of the Madonna. During my visit, I was surprised to see a fair number of worshippers or pilgrims meditating in the chapel, including some men who looked far too young to be venerating the Madonna when they could have been out riding Vespas or wooing their Sicilian sweethearts.

After touring the museum and sanctuary, I returned to town by way of a public park (which included a modest aviary) and the railway station (where a train was about to leave for Palermo).

I later explored the northern shore of the old town, where a spit of land contained a hidden beach with a pretty little garden (and two bikini-clad beauties at the time of my exploration) and the Torre di Ligny, one of several fortresses that once protected Trapani's harbor.

Wind Surf offered two shore excursions during our visit to Trapani: one to the Temple of Segesta, an archaeological site more than 2,400 years old, and the other to the village of Erice, which has panoramic views, medieval architecture, and shopping. (Excursions from Trapani normally include views of the windmills that are famous in this region of Sicily.)
Good English-language tourist information for Trapani is in short supply, but you'll find online hotel listings and other data in Italian at the Trapani Tourist Office. And if you're curious about harbor facilities, see the bilingual Port of Trapani site.
Next page: Amalfi
---
---
---
---